In today's world, video content is a staple of our everyday lives. Some people make a living off of video creation, whether they work independently on social media or entertainment sites like YouTube, or use video marketing for their business to boost their sales and reach their target audience.
However, creating visually appealing and engaging videos can be a challenging and time-consuming process. This is where AI video editing software comes into play. These innovative tools make video creation a breeze by automating the process with intelligent algorithms.
With endless possibilities for customization and intuitive workflows, people can easily create professional-quality videos without the need for extensive technical skills. Plus, the added benefit of saving your precious time, and money – if you are hiring an editor.
So, whether you are creating videos for business or for pleasure, why not take advantage of this technology and bring your message to life with AI video editing tools? You won't regret it!
Table of Contents
Why Should I Use AI Video Editors?
Producing high-quality video content can be a time-consuming task. From scripting and writing to filming and editing, the entire process can take up a significant amount of time. Fortunately, AI has come to the rescue, offering solutions to expedite the creation process.
Many remarkable AI tools are available, including smart video editing software and generative text-to-video apps, perfect for running your YouTube channel, creating engaging social media content, or repurposing existing material to keep your business's online channels fresh. After spending a week evaluating various options, here are my top picks for the best AI video editor.
How Can AI Video Editing Software Speed Up My Workflow?
The best AI tools for video creation increase production quality and quantity without adding to the time spent on it. By offering templates, editing tools, and audio and video shortcuts, these tools reduce the time it takes to get from the script to the final result.
In conclusion, the use of AI video creation apps can make video production less tedious and more efficient.
What Are the 7 Best AI Video Editor Software Tools?
This list includes a couple of different broad categories of AI video editing software:
Video editors with AI editing tools to accelerate the process

Generative text-to-video apps that instantly generate video output based on your prompts

Video productivity apps that use AI to create content faster for multiple marketing channels or platforms.
With those categories in mind, I determined the best AI video generator based on criteria such as:
AI Integration. The tool uses AI to integrate its features.

High-Quality Video Output. The app allows video export in varied aspect ratios ranging from 720p up to 4k.

Time Efficiency. The app contributes greatly to productivity and quickens the content creation process.

Customization. The app provides room for customization and an easy process for incorporating user content.

Support and Ease of Use. The app should be accessible even to beginners and user-friendly, with sufficient support to ensure everyone gets their money's worth.

Unique Features. The app should offer additional features over its competition that enhance either productivity, production value, or both.
InVideo – The Best Overall AI Video Editor for Efficiency & Ease of use
Say goodbye to complicated video editing software and fancy equipment! InVideo offers an effortless way to create stunning and professional videos right on your computer. Use existing footage or upload your own, select from a variety of templates and effects, and hit publish – it's that simple.
The software's sophisticated AI technology even recognizes the ideal video size and aspect ratio for the best viewing experience across all devices. Therefore, your videos will always look sharp and remarkable, no matter the platform.
Here are some of InVideo's top features:
A library of 5000+ AI-based templates enables effortless conversion of text into videos in just a few minutes.

Smart uses of artificial intelligence to ensure every video is unique and gives the audience the best experience, whether for social media or other purposes.

A user-friendly interface that requires no advanced video editing experience.

An easily accessible collection of royalty-free images and videos for creating high-quality videos without excessive searching
Pricing:
InVideo has three price tiers (with a lifetime plan also available if you really like it):
Free Plan – Create a 40-minute video with access to templates & media library, but your video contains a watermark.
Business – $15/month with 60 videos/month & no watermark on videos.
Unlimited – $30/month for unlimited videos each month.
Creating exceptional videos has never been easier than with InVideo. So, why not give it a try for free today?
InVideo Pros:
Enhance your video with ease – add text-to-speech or record your own voiceover.

Create videos in portrait, landscape, or square formats.

Choose from 5000 templates, transitions, and effects, as well as stock video footage and background music.

Take advantage of the free trial to ensure it's right for you.

Affordable monthly fees allow a broad audience to access the software.
InVideo Cons:
Some latency may occur during use due to the fact that it is a web-app

While it's a great AI video maker for beginner to intermediate users, it may feel restricting for more experienced and advanced video editors.
Verdict: InVideo tops my list of AI video editors thanks to its simple interface, extensive stock footage library, text-to-speech voiceover addition, and affordable cost. It's the perfect fit for beginner video creators like myself who want to make the most out of their time – allowing you to create cost-effective video content with ease.
Descript – The Best AI Video Generator for Editing Content Dynamically
Descript is an amazing AI tool that can save you a lot of time editing audio and video content. It generates a transcript of what you say and separates the video track into scenes automatically.
With Descript, you can edit your content by highlighting parts of the transcript, and it will be removed for you. You can also split a video into scenes by typing a forward slash in the script, add B-roll, jump cuts, visual elements, and SFX.
It's a huge time-saver, but if you prefer classic editing, you can use the timeline at the bottom of the screen. Descript is a valuable tool that enables you to edit your content efficiently, and it gives you the freedom to speak freely while recording.
Pricing:
There is a Free plan available with 1 hour of transcription and 1 watermark-free video at 720p.
The Creator plan starts at $12/month, and offers 10 hours of transcription, alongside unlimited watermark-free video exports at up to 4k resolution.
Verdict: In conclusion, Descript is a valuable tool for editing audio and video content efficiently, offering features such as automated transcription and scene separation. Overall, Descript is a great solution for content creators who want to save time and streamline their editing processes.
Wondershare Filmora – The Best AI Video Editor For Beginners
Are you ready to take your video skills to the next level? Look no further than Filmora Wondershare! This powerful yet intuitive AI-powered video editor makes creating stunning visuals easier and more enjoyable than ever before.
With a whole host of AI tools and features, you can quickly and easily create professional-quality videos. Even if you're new to video editing or lack video-making experience, Filmora Wondershare makes the process fun and approachable.
Some of the top features that make Wondershare Filmora stand out include its accurate color correction, motion tracking capabilities, noise reduction tools, custom transitions, titles and graphics, and audio effects. And with the ability to switch between desktop and mobile editing, you can work on your videos no matter where you are.
So why wait? Start creating your best videos yet with Filmora today! Whether you're a beginner or an experienced editor, Wondershare Filmora has everything you need to create stunning videos in no time at all.
Pricing:
Annual Plan: $49.99/year
Cross-Platform Plan: $59.99/year
Perpetual Plan: $79.99 (one-time payment, including only Filmora 12 updates)
Wondershare Filmora Pros:
Filmora Wondershare is incredibly affordable, making it a great option for budget-conscious video editors.

The software is frequently updated, ensuring that you always have access to the latest and greatest features.

Even if you're a complete newbie to video editing, Filmora Wondershare is easy to pick up and use.

With a wide array of fun filters, effects, and transitions to choose from, you can add your own unique flair to your videos.

Whether you're working on a PC or a Mac, you can use Filmora Wondershare to edit your videos.

Social media mavens will appreciate the software's support for multiple aspect ratios, making it easy to create content for platforms like Instagram, TikTok, and more.

Filmora Wondershare can handle a variety of different file formats, so you can work with the footage you have.
Wondershare Filmora Cons:
If you opt for the free version of Wondershare Filmora, your edited videos will contain watermarks.

While Wondershare Filmorahas plenty of features, it may not be quite as advanced or comprehensive as pricier video editing programs like Premiere Pro.

Rendering video files can be computationally intensive, so be prepared for your computer to work hard (and potentially get hot) while you're rendering.

If you're looking for a large library of stock video footage to incorporate into your projects, you may want to look elsewhere.
Verdict: Filmora is my overall choice as the best AI video editing tool for beginners, as it has the key components most people need to edit their videos available to just drag and drop, allowing people to create complex, professional content quickly and easily with no prior backend knowledge!
Synthesia – The Best AI Video Editor for Using Human Avatars
Create professional videos quickly and easily with Synthesia's intuitive AI tools and automated processes.
Synthesia enables you to completely transform any written content into an engaging video story in just a few clicks, thanks to its AI technology that automatically adds effects, music, and more.
Other top features of Synthesia include AI avatar video creation, multi-track editing, a variety of royalty-free media assets, and natural language processing to correct errors in your video script.
Enhance your visuals with animation effects, color correction, and more to make your videos shine. With all of these features, Synthesia is the perfect tool for 100% automated professional video creation.
Pricing:
Synthesia's personal AI video creation service for AI avatars is priced at $30 per month.
Synthesia Pros:
Incredibly realistic human-like AI avatars that are realistic enough to possibly fool viewers into thinking they're real.

Ideal for individuals who don't have the right equipment (it can be very expensive if you're just starting out) or feel uncomfortable in front of a camera.

Text-to-speech voiceover generator that supports over 60 languages and accents.
Synthesia Cons:
Has a high learning curve and may take time to master.

Limited pricing plans that aren't very flexible.

Can feel janky and inhuman if the AI avatars don't pull their weight (definitely play around with it first to see if it's for you)
Verdict: If you're a creative or professional seeking a powerful and user-friendly AI video editing tool, look no further than Synthesia! In just minutes, you can produce professional-quality AI videos and voiceovers/avatars that are both engaging and visually stunning!
Runway ML – The Best AI Video Editor for Versatility, Polish & Quick Fixes
If you're looking for an AI-powered video editor to help bring your projects to life, then Runway is definitely worth checking out. This powerful host of tools offers a range of automation features that make it simple to create professional-looking videos without any complicated editing skills.
One of the standout features of Runway is its multitrack video and audio editing functionality, which allows you to create stunning videos that rival the likes of professional editors quickly and easily with the help of AI. This multitrack editor allows you to have complete control over your project and video clips, and pull off just about anything that you could in Premiere Pro or Filmora 10,
The software includes several vastly useful AI automation features such as green screen background removal, automatic noise reduction, and automatic beat detection to help you sync up your music and achieve a seamless final product.
On top of all that, Runway can also juggle a kind of crazy object paint-out tool, as well as an automatic subtitle generator.
Additionally, there's a vast library of video templates to assist in creating professional, social, or corporate videos quickly without the need for creating everything from scratch.
Pricing:
With prices starting as low as $12 per user, Runway is an affordable solution that can accommodate any budget.
Verdict: So, if you're looking for an easy, cost-effective way to create beautiful videos with minimal effort, Runway AI is the perfect option for you. Get started today with the free plan, which allows you to manage up to three projects and 5 GB of assets.
Pictory – The Best AI Video Editor for Short Video Creation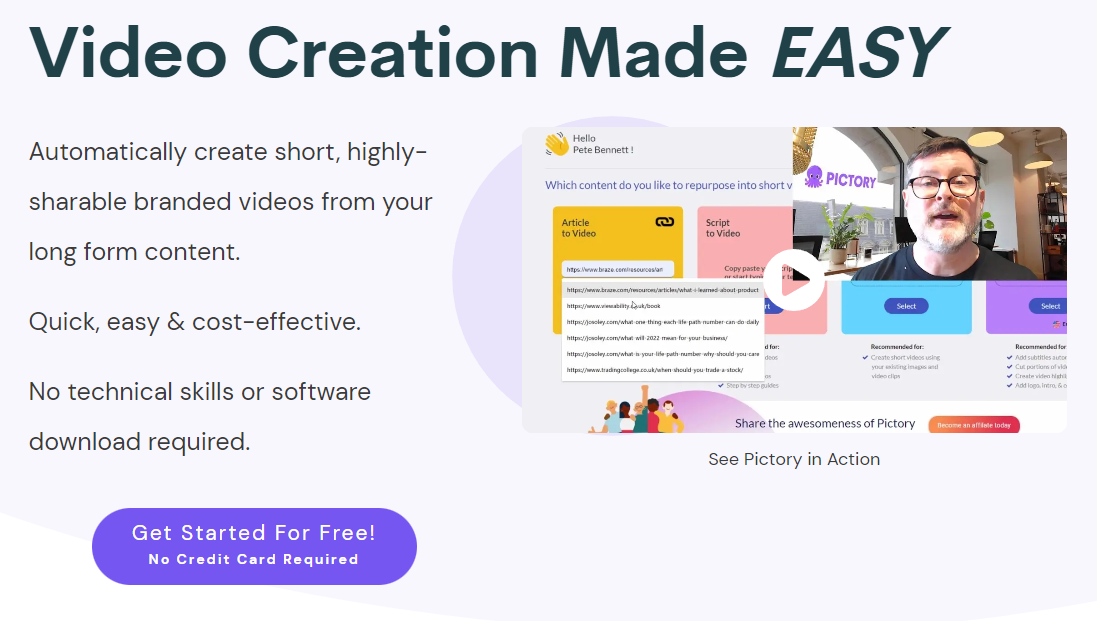 Looking for a hassle-free way to create amazing short videos? Look no further than Pictory – the perfect AI-powered video editing software for all your needs.
With Pictory's intuitive user interface, you can easily navigate the workflow and create content effortlessly. Its AI-guided editing capabilities automatically detect scenes, generate subtitles, and correct any human error that may occur during the editing process. And with customizable video creation tools, you can tailor your tools to your specific needs.
Other top features of Pictory include the ability to edit multiple sources simultaneously, automated color correction and enhancement, flexible time remapping options, and audio device integration for adding soundtracks and voiceovers. Plus, it supports a broad range of media formats for import/export.
Pricing: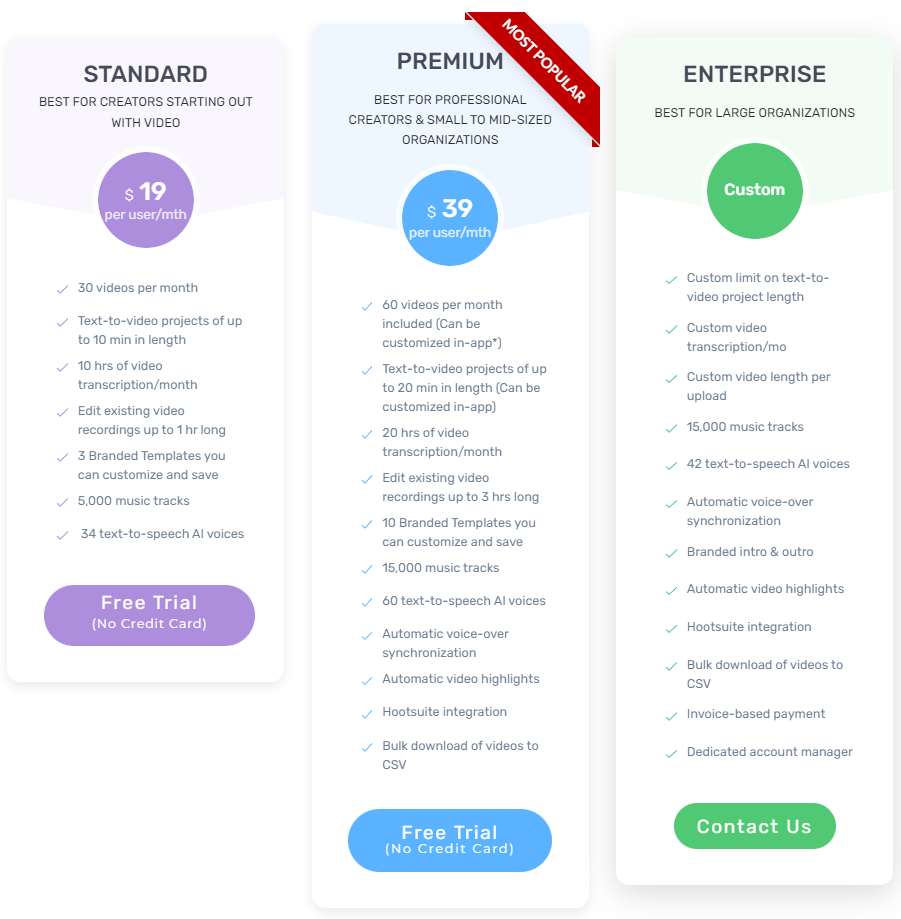 With Pictory, you can choose from two affordable pricing options:
The Standard Tier for $19 per month (30 videos and 10 hours of video transcription)
The Premium Tier for $39 per month (60 videos and 20 hours of transcription).
Don't forget to try the free trial to make sure Pictory is the right AI video generator software for you!
Verdict: Whether you're creating short videos for social media, YouTube, or anything in-between, Pictory has got you covered! It includes a great suite of tools that are certain to leave you satisfied.
Conclusion
In conclusion, AI-powered video editors offer a revolutionary way for content creators to approach video editing. Not only do they provide efficient and intuitive tools for adding effects, correcting colors, and manipulating audio, but they also simplify the often time-consuming and tedious tasks of transcription and scene separation.
As AI technology continues to advance, we can anticipate that video editors like these will become even more powerful and intuitive, allowing creators to focus on being creative instead of being bogged down by technicalities. Whether you're an experienced video editor or a newbie just starting out, AI video editors have the potential to transform the way you approach your craft and help you produce high-quality, engaging content that will captivate your audience.
So what are you waiting for! Snag one today and save yourself so much hassle! Good luck!