AI copywriting tools are becoming ubiquitous in the marketing world, helping save time and lessen costs with an efficiency that everyone can appreciate. The sheer range of utility and features some of these tools offer makes it so they are useful in any scenario/workflow – whether you want the AI to take the brunt of the work, or for it to just assist you in your writing.
You can use AI copywriting software to guide your thought processes, clarify your words, and help with proofreading. Many features AI copywriting tools offer have massively shifted the entire industry, boosting SEO and eradicating so many headaches.
They are kind of essential for ranking in the SERPs nowadays – if you aren't using AI tools to optimize your posts, there's a good chance everyone else in your niche has a head start on you.
There is no doubt that this software has the potential to change the way we work forever. However, like most tools, their efficacy depends on the person using them. It's essential to know when to use AI copywriting software and when to rely on your team's human expertise.
Although these tools are great, it's still a rather unexplored field of technology, and AI isn't perfect (yet) – it will still make mistakes – especially when it isn't provided with the proper context.
How To Use AI Copywriting Tools Effectively
As we transition more and more into a world where AI-generated text is the status quo, it's ever more important that your brand stands out and you ensure your copy doesn't tumble into the pitfall of having the standard bland, generic AI-generated "flavor" that everyone under the sun is using for theirs.
If you want to really enhance your content marketing and boost your conversions, make sure you actually engage your readers. Google may not mind some of the incoherent drivel AI spits out sometimes, but we humans sure do.
It's much harder to trick a human than it is to trick Google (there are even AI tools that scan your AI-generated copy and tell you if/make it look like it was written by a human. What a strange world we live in.)
If a reader can tell that what they are reading is AI-generated content, then you are not doing your due diligence.
If it's obvious that your content is AI-generated, regardless of whether it was carelessly slapped together or meticulously cultivated, you will always lose just a little bit of your reader's trust – people trust people – not robots.
The best way to swerve around that issue whilst still using AI is by creating a unique brand voice that readers identify with and you can integrate into your AI generations (a brand voice is a style of writing that all of your written content adheres to) and sticking to it.
Creating A Rich Brand Voice
Aim for a more personal, conversational tone, and be sincere – don't big-up every single product – everyone knows that no product is perfect – may as well show the issues so your readers can make an informed decision. If your readers feel you genuinely want to help them, then they are far more likely to trust your site and make purchases from it.
It isn't always the best idea to have an overly-transactional tone over your whole article. In many cases doing that has an equal chance of driving people away compared to driving conversions. It can appear needy to your readers, and quite possibly a little greedy too.
Integrate humor and relatability. AI, for the most part at least, isn't intentionally funny, and calling out popular pop culture references is a surefire way to get a stamp of human approval.
Be empathetic! A little emotion never hurt anyone – don't be afraid to tell your personal story and compare it to your readers'. Emotions are one of, if not the best ways to drive clicks/conversions – so why not take advantage of them?
If you have a cohesive brand voice suddenly anyone who is perusing around your site will be able to connect the dots and see your brand as one, trustworthy, united front. Trust me – trust goes a long way (see what I did there? That sentence wouldn't work if you guys didn't trust me.)
At this point in time, in my opinion, it's better to use AI as a guide and let it assist you with the things it's best at (tracking data or pointing out grammatical errors.) You should integrate it into your workflow rather than solely relying on it to do your job for you.
Look at Star Wars for example – robots do make the most loyal assistants, but you aren't really seeing any swinging around a lightsaber.
My Picks For The Best 7 AI Copywriting Tools
As a blogger myself, I know how much we all crave that secret sauce – the one that'll make our writing stand out and truly connect with our readers. And guess what? I've found it!
If you're anything like me, you've faced writer's block, struggled with headlines, or spent hours fine-tuning that perfect Instagram caption. But fear not, my friends! These AI copywriting tools are about to become your new BFFs – trust me, they've saved me more times than I can count!
In this new section, I'll be dishing the dirt on some of the best AI copywriting tools out there, like Jasper AI, Copy.ai, and Frase. We'll dive into how they can help you create captivating content that speaks to your audience, all while saving you time and energy!
I'm talking about tools that generate blog post ideas, whip up email subject lines, craft social media captions, and even help you optimize your content for SEO. Seriously, it's like having a team of creative geniuses at your fingertips!
In the rest of this article, I will rank the best AI copywriting tools, and help you unlock the secret to quickly creating content that resonates, engages, and inspires. Let's do this already!
Jasper AI – The Best Overall AI Copywriting Tool

Have you ever found yourself staring at a blank screen, struggling to come up with the perfect words to capture your audience's attention? We've all been there, and that's why I'm super excited to introduce you to Jasper AI – an AI-powered copywriting tool that's about to become your new best friend.
Picture this: you're on a creative roll, but suddenly you hit a roadblock. No worries, Jasper is here to help! With its diverse range of features, Jasper streamlines content creation and helps you break through those pesky creative barriers. Let's dive into some of its amazing capabilities!
Can't decide which language to write in? Or struggling to translate your content and run a global blog? Jasper generates AI content in over 25 languages, making it the perfect polyglot companion.

Worried about plagiarism? Jasper's got you covered with its built-in plagiarism detection feature.

Looking for just the right tone? You can set the desired tone for your content, from formal to casual, and everything in between. You can also create a custom brand voice that allows you to remain tonally consistent throughout your copy.

Need to collaborate? Jasper facilitates real-time collaboration, so you and your team can work together seamlessly.

Love integrations? Jasper plays well with third-party tools such as Surfer SEO, making your workflow even more efficient.
Now, let's talk versatility. Jasper is the ultimate sidekick for digital content creators like you, helping you create promotional material such as:
Stunning social media posts that grab attention 📱

Engaging ad copy that drives conversions 🛍️

Compelling blog posts and content ideas that keep readers coming back for more 📚

Irresistible email subject lines that get opened 💌
And guess what? Jasper AI even generates AI art without watermarks! This makes it an incredible asset for ads, thumbnails, and illustrations.
If you want to test out Jasper's text generation capabilities – you can check out their handy suite of free AI tools!
The Nitty-Gritty Details
I think the pros speak for themselves on this one, and kind of outweigh the cons. But regardless of my opinion, it's important you get to properly formulate yours. Here are some of my gripes with Jasper, and some other info you'll need to make up your mind.
Cons:
Not always spot-on: Although Jasper is pretty amazing, it's still an AI, which means that sometimes it might miss the mark. But hey, nobody's perfect, right? 🤷‍♀️

Takes a bit of practice: Just like riding a bike, using Jasper AI might require some trial and error before you get the hang of it. But once you do, you'll be cruising along like a pro!

Pricing: Starting at $49 per month, Jasper AI might not be the most affordable option for everyone. But if you think about all the time and effort it saves, it's definitely worth considering.
Pricing: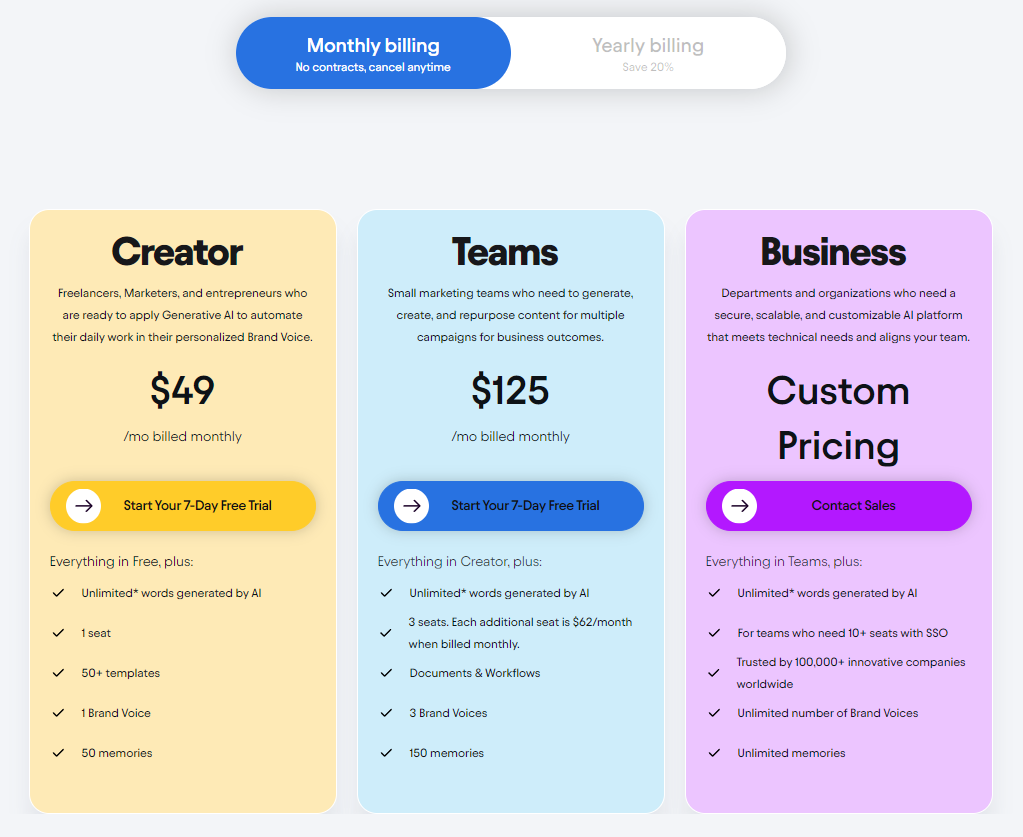 With pricing options starting at a somewhat hefty $49 per month for their full plan, Jasper AI is an investment in your creativity. However, it does have a nice selection of different pricing options, ensuring you get your money's worth. If you've got a team of more than five users, there are additional business subscriptions available to suit your needs.
Higher word counts are available for a higher price, along with custom plans being available. The monthly cost for all plans is 20% less if you purchase an annual plan. Here is a link to their pricing plans so you can balance what features you think you'll need.
So, what are you waiting for? Give Jasper AI a try, and let's unleash your creative potential! 🚀
Frase – The Best AI Copywriting Tools for Personalized Copy
Ever wished you could create content that truly resonates with your audience and boosts your marketing efforts? Say hello to Frase – a copywriting software designed to help you craft engaging content that speaks directly to your audience's interests.
Frase dives deep into data about your audience, using it to create personalized and relevant content that they'll love. Plus, you can easily track how each piece of content is performing in terms of conversions and leads. Talk about a game-changer!
Here's a peek at what Frase has in store for you:
Pros:
Frase's content brief generator is a dream come true – quickly build content briefs and rank higher on Google.

Their AI content generator is top-notch – one of the best out there!

The article scoring feature is next-level, helping you stay on track with your SEO performance.
Cons:
The content generation tool doesn't take current events into account.

The AI copywriting feature comes at an extra cost for more tools and unlimited generated words

They're a young company, so their customer support team is still growing and might not be super speedy just yet.
Pricing: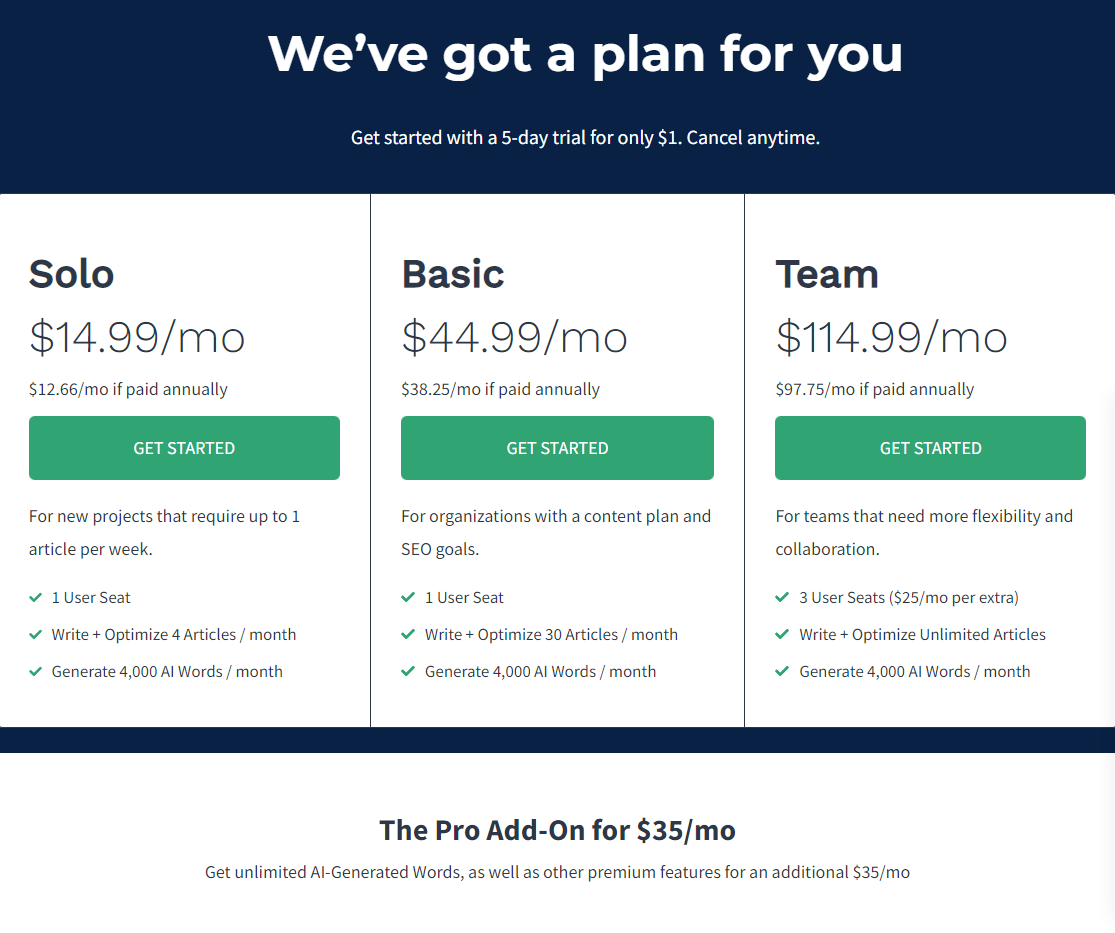 Frase offers flexible pricing options to suit your team's needs, ranging from $44.99/month to $114.99/month.
So, if you're ready to connect with your audience like never before and supercharge your content game, give Frase a try and let the magic happen!
Copy AI – The Most Reliable AI Copywriting Tool – Best Alternative to Jasper AI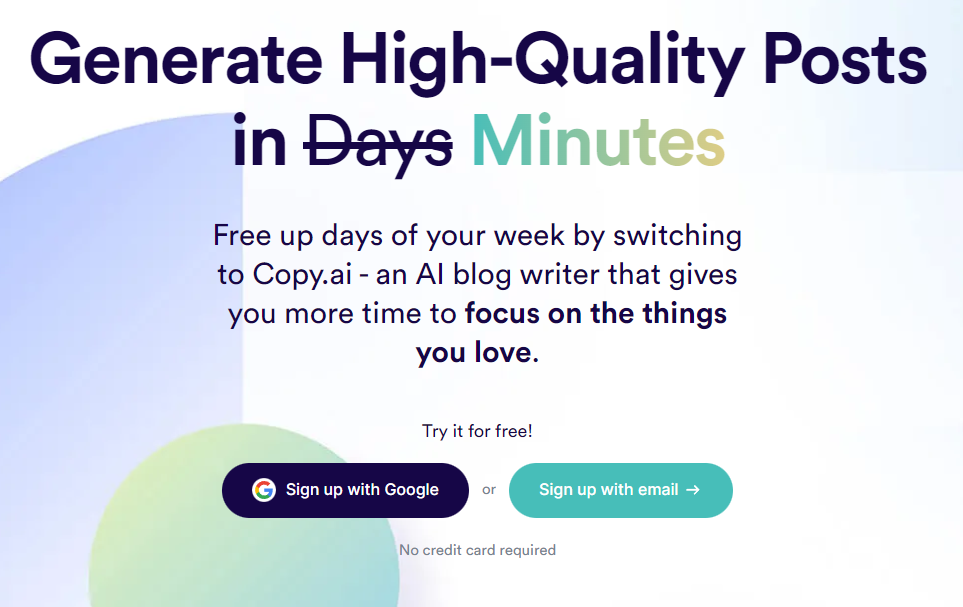 create content generated content written search engines google docs landing pages ai tool
Have you ever felt stuck trying to come up with a caption for your new marketing course post on Instagram? Or when you're wracking your brain for a killer meta-description that'll drive traffic to your website? I've been there too, and let me tell you, it's no fun.
But guess what? I found a secret weapon that changed everything for me – Copy.ai! It's an AI-based writing assistant that can handle all your copywriting needs, from generating brilliant topic ideas to crafting engaging social media posts in a snap.
With over 90+ copywriting tools, Copy.ai is like having a whole team of creative geniuses at your fingertips!
For example, the other day, I needed a catchy Instagram caption for my new AI video editor post. So, I turned to Copy.ai, described my post, chose the tone I wanted (something fun and upbeat), and voilà! Copy.ai generated a bunch of options for me to choose from. No more writer's block, no more second-guessing – just pure, creative magic!
Pricing: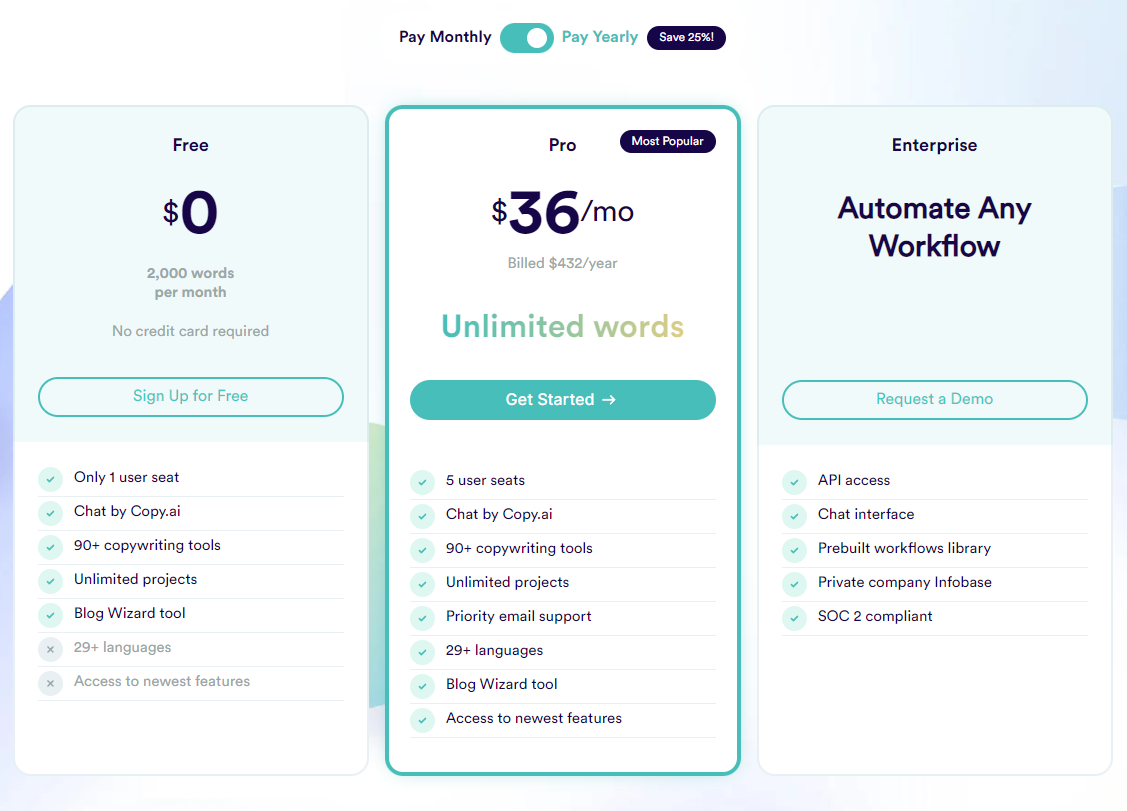 Now let's talk pricing because I know we all love a good deal. You can start with a free account that offers 2,000 words per month – not too shabby, right? But if you're anything like me and crave unlimited word power, the Pro account is where it's at! For just $49/mo ($36 if you pay yearly), you'll get unlimited words AND access to five user seats. That means you can share the love with your team and let everyone sit back and relax a little whilst the AI takes over the grueling, repetitive, mundane work.
If you're looking for a personal, conversational, and introspective AI writing assistant that truly gets you (and your writing struggles), look no further than Copy.ai. I promise it'll be a game-changer in your writing journey!
Content at Scale – The Best AI Copywriting Tool for Mass Content Creation
Introducing Content at Scale – the revolutionary AI copywriting software that's taking the copywriting world by storm!
Picture this: A powerful, cutting-edge tool that combines three AI engines, natural language processing, and semantic analysis algorithms to craft complete blog articles from scratch. And it doesn't stop there! Content at Scale even crawls Google and surveys top-ranking sites to ensure your post is nothing short of spectacular.
Unlike other AI copywriting tools, Content at Scale goes above and beyond to create entire blog articles, complete with titles, meta descriptions, URL slugs, headings, paragraphs, and so much more! The cherry on top? It also offers optimization tips and suggestions to help you boost your SEO score and rank higher on Google. All you have to do is add some images and personalize it a little, and poof – you're done!
Here's a taste of what Content at Scale has to offer:
Long-form content creation

SEO optimization

Plagiarism scans

Mass content upscaling

Whitelabel branding

Affordable pricing

A trio of AI copywriting engines
With just a single keyword, Content at Scale can whip up an entire blog post, including titles, meta descriptions, URL slugs, headings, subheadings, and keyword-optimized content.
All that, and it won't break the bank, with prices ranging from $0.01/word to $0.018/word! That's a tenth of the price it would take to hire a competent writer – and you don't have to bother with training or anything.
Imagine generating a ready-to-publish article in just a few minutes, with high-quality content that only needs a quick review and some minor edits. That's the magic of Content at Scale!
Keep in mind, though, that Content at Scale is best suited for long-form articles. If you need copy for a landing page or ad, you might want to explore other options. And since they're still in early access/beta, a few UI tweaks are in progress to make the experience more polished and the navigation even smoother.
Pricing: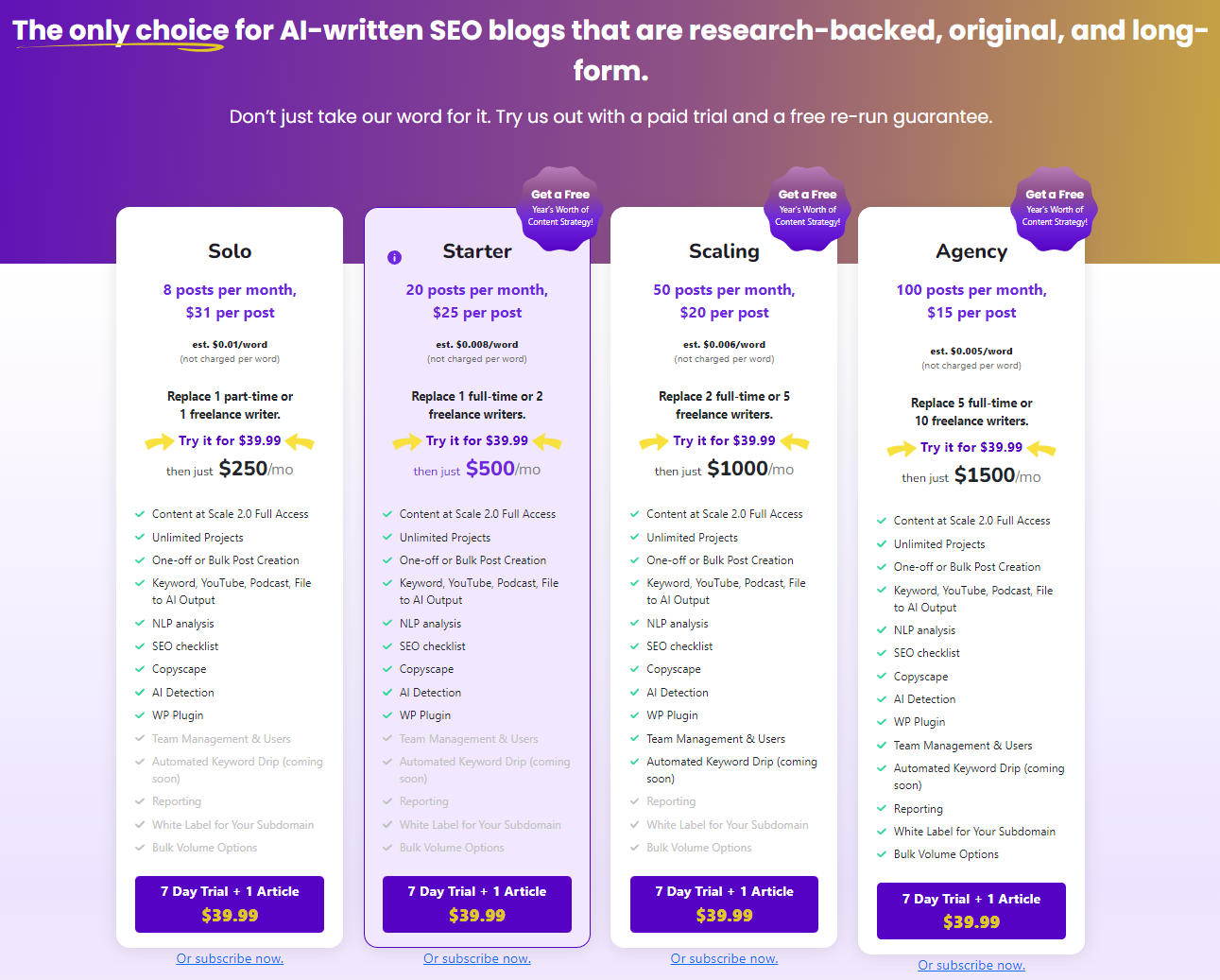 Content at Scale's pricing depends on the features and requirements your team is after. With prices ranging from just $0.01/word to $0.018/word, you're sure to find the perfect plan that aligns with your goals and budget.
Best Fit For:
Free Trial Offered?
If you're ready to take your blog writing game to the next level, why not give Content at Scale a try and watch the magic unfold?
Conclusion
And so we've reached the end of our journey through the enchanting realm of AI copywriting tools. What an adventure it's been!
Now, as you venture forth into the wild world of content creation, I encourage you to embrace the power of AI copywriting tools. Let them be your guiding light, your muse, and your secret weapon in your quest to craft stories that resonate, engage, and inspire.
So, go forth, write with passion, and let these AI tools help you out with your workload. After all, they do make those late-night backlogs so much easier. Good luck!