Are you looking to take your gaming setup to the next level in 2023? If so, then you've come to the right place.
I'm going over all of the must-have gear and devices for any serious gamer, whether you're a streamer/content creator, tabletop gamer, hardcore gamer, or anyone who just dabbles in gaming on the side.
From hardware choices such as graphics cards and processors, consoles, and controllers, to other elements like audio equipment, furniture options, and streaming tech – I got it covered!
So grab a snack and join me on my journey as I break down exactly what you need for a unique, truly next-level gaming setup tailored to your needs and interests.
Table of Contents
My Ultimate Guide to Achieving The Perfect Gaming Setup in 5 Steps:
I've written 5 in-depth steps to help you get started creating your dream gaming setup. I'll go over the entire room from top to bottom and will be including different themed guides in the future for every kind of gaming room, from streaming-focused gaming setups to D&D game rooms. Here's a summary of my 5 simple steps for building your dream gaming setup:
Choose a theme/idea that suits your preferences and style.

Pick which main components you want to use that fit your needs and preferences (don't worry – I have a list.)

Begin to develop the style of your gaming setup, and what color palette you want to use.

Choose what specific products you'll need to create your dream setup, using my themed room guides as a baseline if you wish.

Use some clever tips and tricks to assemble your battlestation and add some final touches – some cool decor, plants, and accessories.
So, now that you have a brief idea of what to look forward to – let's get into it! Here is your comprehensive guide to crafting the ultimate gaming setup.
1. Choose An Idea For Your Gaming Setup:
I've curated a list of high-quality reference images organized by theme in my Gaming Setup Ideas article, which is being expanded upon frequently! Go check it out!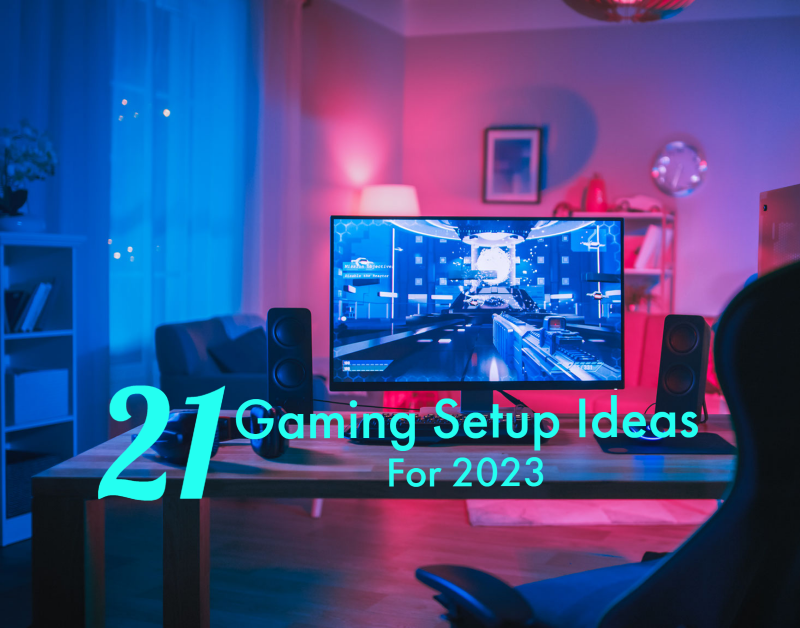 My Comprehensive List of Gaming Setup Ideas
Getting the theme of your gaming setup fleshed out before you commit to a design is essential.
Alternatively, you can browse Pinterest, Instagram, or r/battlestations on Reddit for ideas.
2. Pick Your Preferences:
Gamers are a picky bunch, especially when it comes to their setups. Whether it's the difference between PC and console gaming (which I'm not touching on in this article, but will be in the near future), or which shape of gaming desk you should choose, here are all the core decisions when it comes to making your very own gaming setup. Let's get into it!
Gaming Monitors vs TVs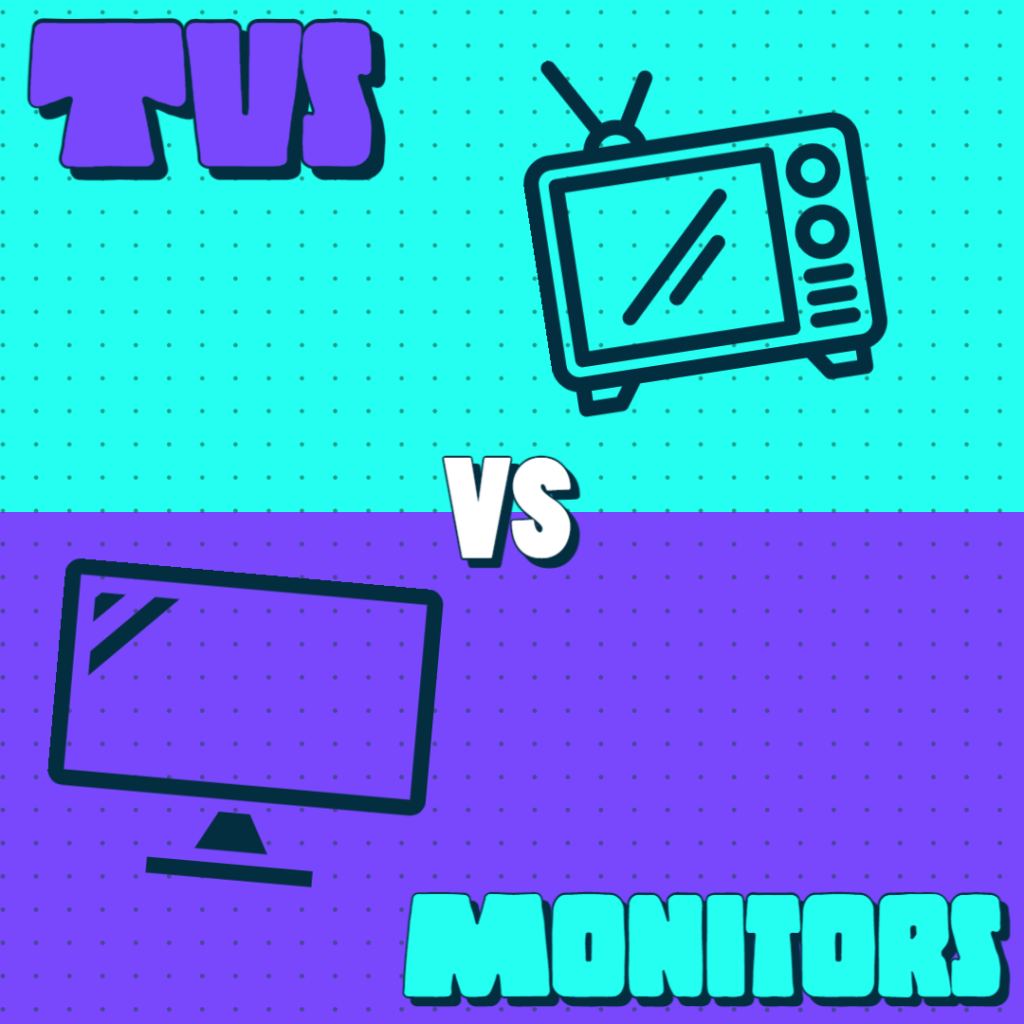 When it comes to display hardware, there has traditionally been a divide between PC and console gamers. More often than not, PC gaming requires specialist computer hardware which lends itself well to using high refresh rate monitors for gaming. Likewise, consoles have typically been designed for plugging into ordinary household TVs.
But all of this is changing as TV manufacturers continue to develop more advanced models with impressive specs that can support even high-end PC gaming needs, and the age of portable small form factor consoles means that many console gamers would prefer to have a smaller, more personal setup than they ever could before.
With these developments in mind, it's worth exploring whether monitors or TVs are better suited for you, whether you are a PC or console gamer. In this section, we'll discuss the differences between each option with pros and cons, and help you decide which one is right for you!
Gaming Monitors: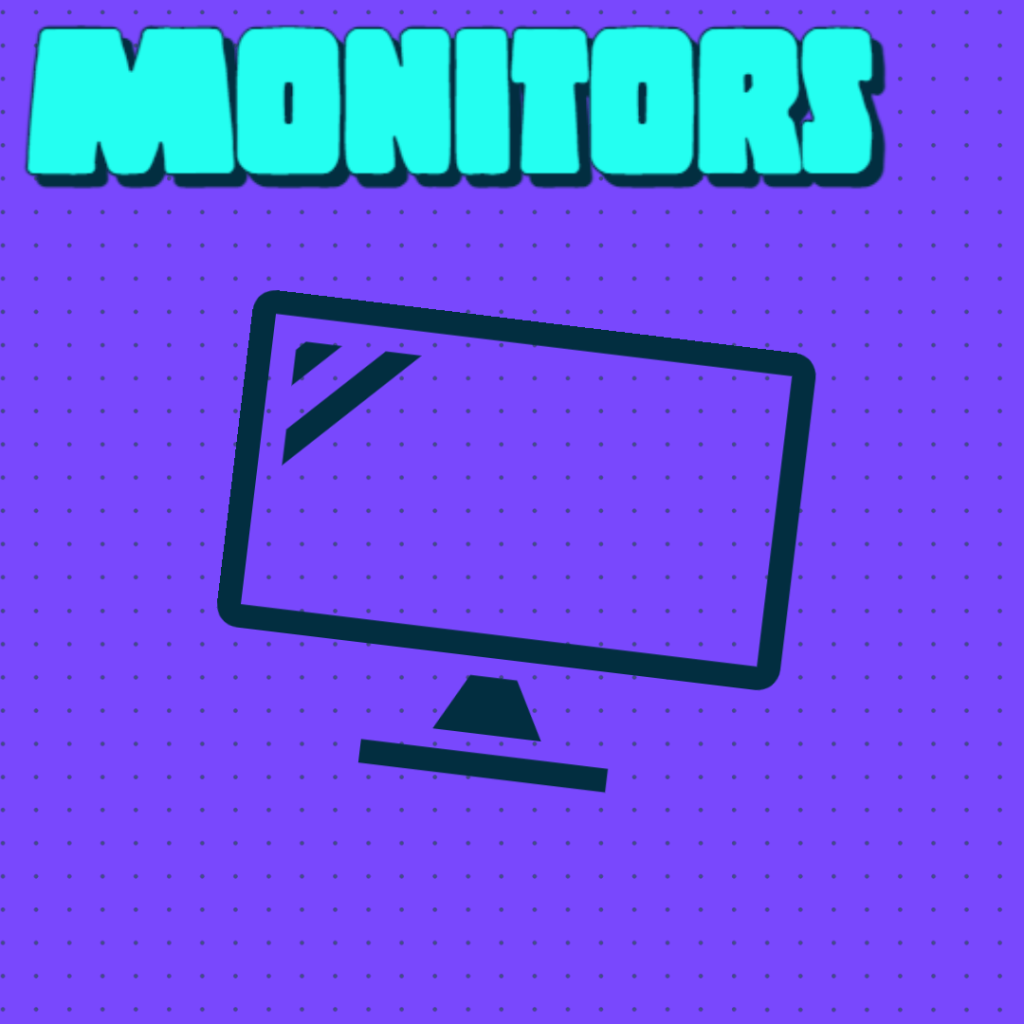 Pros:
• Smaller form factor, high performance
• Curved screens are available
• Impressive refresh rates and response times
• Affordable access to decent hardware
Cons:
• Most of the time an external sound solution is required
• Unreliable HDR support
• Limited sizes available
• Usually specialized for PCs, no smart streaming features included like on TVs
• 4K resolution is expensive – not as much of an issue for PC gaming, but console gamers might feel like they are missing out on the high resolution that they would get on a TV
TVs:
Pros:
• Often available in higher resolutions such as 4K UHD
• Multi-purpose entertainment – built-in smart streaming and access to live TV
• Decent quality built-in speakers
• Much wider range of screen sizes
• Even budget units can perform well when console gaming
• Soundbars and surround sound are widely supported
Cons:
• Monitor-like speeds and refresh rates are very expensive
• Typically much more expensive
• Over-featured for just gaming – you are paying for things you won't use
• Better specs often mean a big physical size – sometimes too big
My Verdict: Draw
It's too reliant on individual preference to make a fair call here. While most console gamers will stick with TVs, those who move over to a gaming monitor will access a highly-specialized visual experience. PC gamers will mostly want to stick to monitors, but those with deep pockets will certainly have a whale of a time when moving to a TV with monitor-like specifications.
Keyboard/Mouse vs Controllers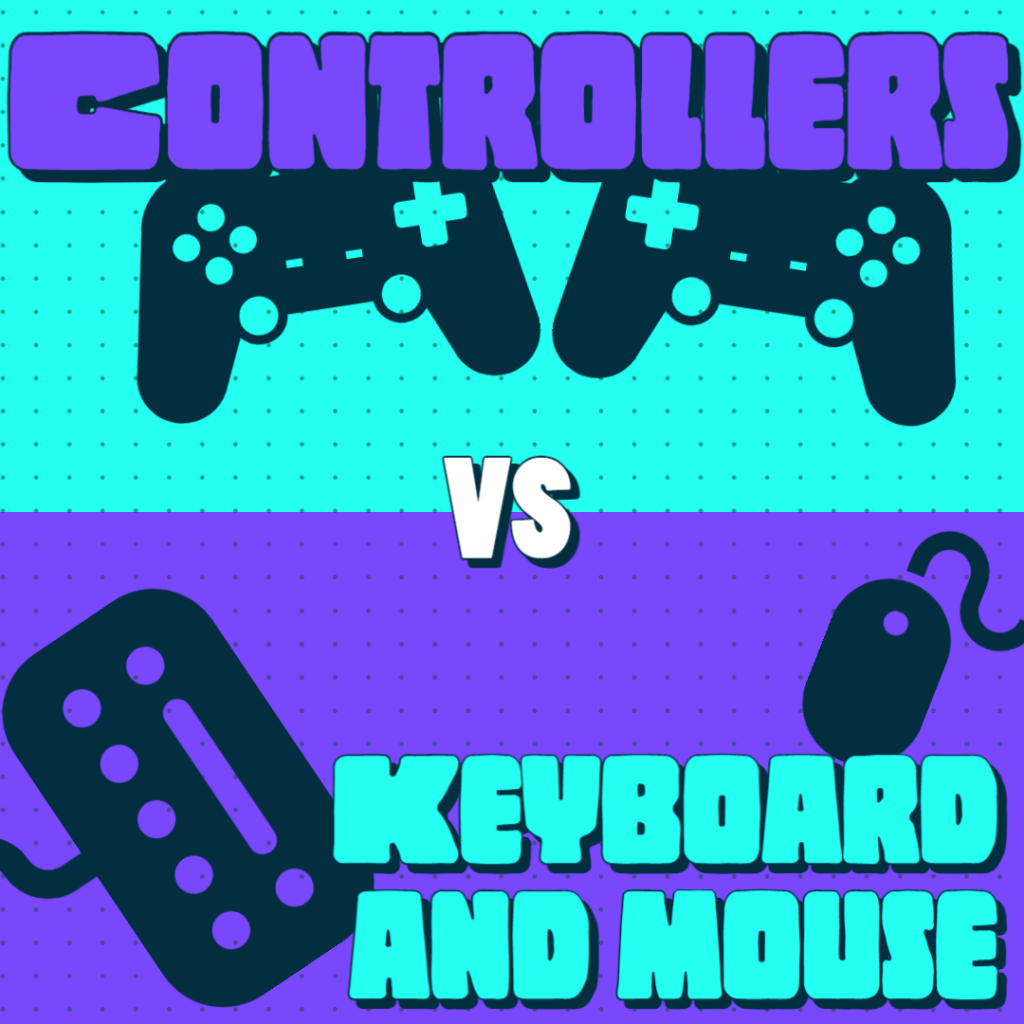 PC gamers have a unique advantage when it comes to choosing their gaming setup – they can use mouse and keyboard peripherals or opt for the classic controller experience. Most console owners are generally tied to controllers due to their platform being designed with them in mind. But for some people, it just depends on what game they are playing, regardless of what hardware they are gaming on.
I would recommend having both, as you will never know when you'll feel like swapping, but for those that want to reserve their budget or reduce the amount of clutter in their setup, I've arranged some pros and cons to help you choose between the two.
Whether you are a console owner swapping over from a PC, or a PC gamer who is on the fence about which control scheme to choose – hopefully these pros and cons will help you choose!
Keyboard & Mouse: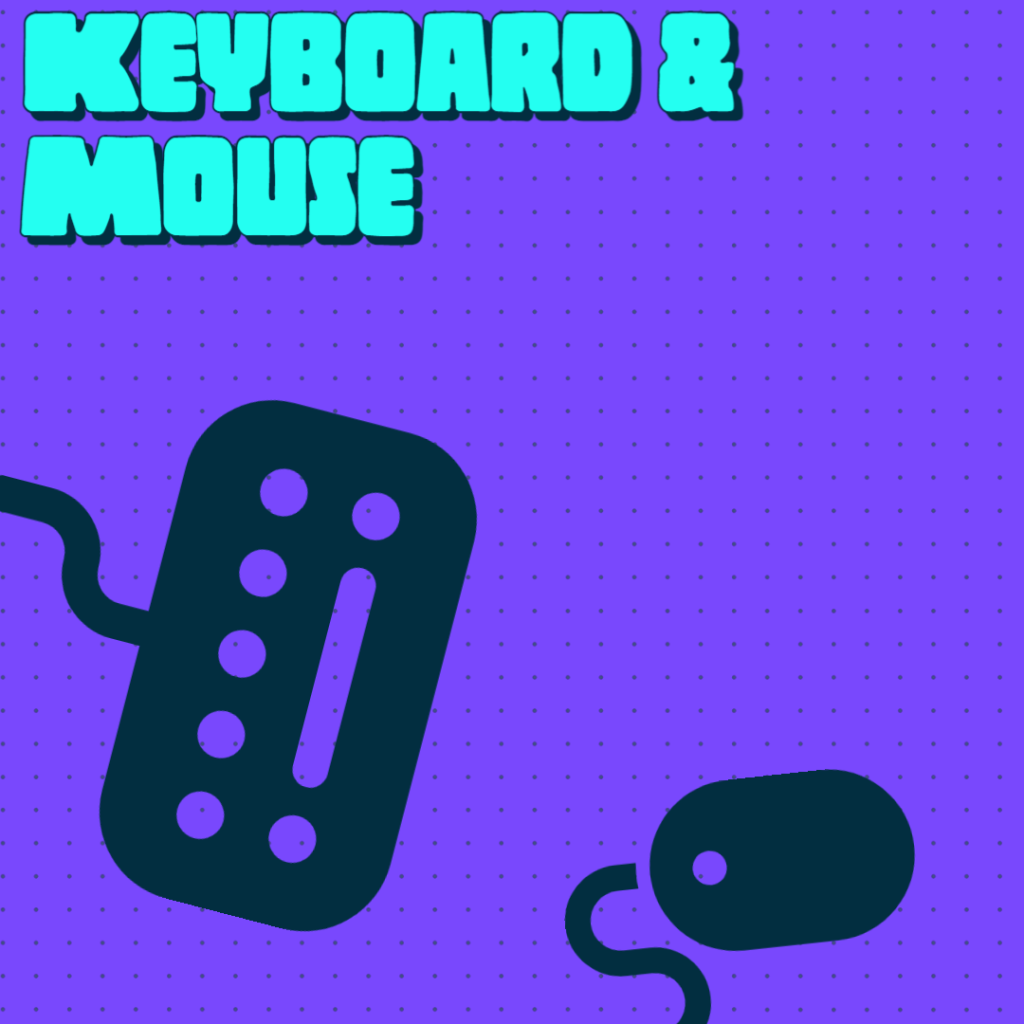 Pros:
• Higher level of accuracy and performance via a mouse
• Generally less input latency compared to wireless controllers
• Extreme customization options through macros and key-bindings
• Deep control over mouse sensitivity
• Simultaneous complex commands and in-game actions
Cons:
• Not particularly intuitive control scheme
• Expensive for high-quality options
• In most cases can be feature-bloated, as you will only be using a very small portion of the keyboard
Controllers:
Pros:
• Intuitive and ergonomic
• Streamlined control schemes
• Versatile – many use cases across PC, consoles, tablets, and smartphones
• Handheld and mobile – you're not tied to a desk and can sit back in your gaming chair
Cons:
• Shooting games will often rely on auto-assist
• Limited sensitivity customization and button mapping control
• Complex commands can be difficult to input
• Typing sucks with a controller
My Verdict: Keyboard & Mouse
Both input options have very compelling pros and tolerable cons, but for me at least, keyboard and mouse take the crown due to the sheer versatility and depth of personalization. Regardless, there are some games I would only ever play with a controller, so it's really down to your personal preference and favorite game. For both control options, gaming with them is only really enjoyable with quality hardware, to avoid input lag and increase performance.
Gaming Headsets vs External Speakers/Sound Bars
When it comes to achieving the most immersive gaming experience, visuals are only half of the equation. Audio is essential, and plain old integrated speakers aren't going to cut it for immersion. Whether you're enjoying the ambiance in a single-player open-world game or gaining a tactical advantage in multiplayer arenas, investing in dedicated speakers or a gaming headset will ensure any setup – from PCs to consoles – lives up to expectations with stellar sound quality that provides true immersion.
As always, you will benefit from having both, but having two separate high-spec audio devices is overkill for some and out of their price range for most. This comparison will help you pick the one that's right for you, or, if you are planning on investing in both, it will help you decide which of the two you may want to invest more into.
Headsets:
Pros:
• Powerful audio, with added immersion via noise-canceling
• The surround sound experience without the cost and size of an external setup
• Surround sound and noise canceling are both essential for competitive gaming
• Most have built-in mics
• Balancing options between game and chat audio
• Choice between wired and wireless options
• Increased privacy and avoids disruption of others.
• Can be used with other devices for high-quality sound wherever you go
Cons:
• Cables can create clutter
• Can't be used during local multiplayer
• Potentially uncomfortable during prolonged use
• Battery life can limit play on wireless headsets
• Wired headsets have limited mobility corresponding with the length of the cable.
• Noise canceling can cause you to speak a LOT louder in voice chats, which could spell trouble for people sharing a home
P.S. Fellow teens, I recommend having one ear only partially covered, so you can hear when you are called by your parents and are a little more aware of your noise. That advice could spare you some trouble, take it from me.
Speakers and Soundbars:
Pros:
• Versatile – can be used for playing music or watching movies etc.
• Good for console gaming as soundbars pair nicely with a TV
• If you invest in the right room and hardware setup, the audio can be much more appealing
• The only good option for local multiplayer
• Great for gamers that find having stuff in their ears/on their head uncomfortable
Cons:
• Take up a ton of space
• Fixed in place in most cases (especially with higher-end setups) Not mobile like a headset
• Audio can bleed into the mic during team chats
• Harder to hear at low volumes
• Not ideal for gaming late at night or in a shared house, no privacy
• Can be a good deal more expensive if you want audio on par with most headsets
My Verdict: Headsets
A gaming headset gives maximum audio performance and portability and a small form factor, all in one package generally for a fraction of the price of a full speaker setup. Whether wireless or wired, you'll experience crisp sound with no hassle with any PC you want to plug into, and better yet, most consoles nowadays have options to both plug-in with a wired connection to the controllers, or take advantage of modern connectivity speeds and go with a wireless headset so you can sit back on the couch and don't have to worry about being close to the console.
Another benefit to headsets is that they can make gameplay come alive with surround sound built-in out of the box, all without using your entire budget on 10 bajillion speakers. Plus, an extra bonus feature of headsets – headset hair. Yikes. We've all been there.
The Essentials:
So now that you've gone through the pros and cons and picked out your preferences for some of the main components of your setup, let's get into all the other things you need for the perfect pc gaming setup. Here's a quick list to sum it up.
All of your core furniture, which will govern the structure and style of your setup – eg. the gaming desk, gaming chair, shelving and storage, and any other furniture needed depending on the type of setup you've chosen

A main gaming platform, such as a PC or a console

Your chosen input and display devices

An audio setup (mic and output) and some kind of network connection

Desk surface utilities, a mousepad, a camera, etc.

Decor (wall art, plants, collectibles, etc.)
You'll want to make sure that the specific items you choose for each of these are right for your space and theme. I wouldn't recommend going for a VR setup if your gaming room is in a walk-in closet, nor would I recommend adding some wall art of a hellscape to your kawaii gaming setup (but hey, you do you!)
Ethernet Cables or Wireless routers
When gaming, generally wired ethernet connection is preferable to a wireless one. Though wired connections are immobile and sometimes aren't plausible to set up, the speeds and connection stability are far greater than wireless. A dedicated wired connection to your router will maximize download speeds and reduce ping and lag when gaming online.
If you are gaming in a location that doesn't have access to your main router for an ethernet cable, there are wifi boosters available that have an ethernet cable port, which would be good to use to make your connection more consistent and reduce lag spikes.
Choosing a Gaming Desk
Choosing the right type and shape of your gaming desk is crucial to your pc gaming setup. A gaming desk is the foundation on which everything else is built off of, so the style, color palette, and shape have to accommodate everything else in your setup. You'll need a gaming desk that caters to the aesthetic that you've chosen, and one that has enough storage and tabletop space for your needs.
Keep in mind that if you want it to be practical you will have to have somewhere to store your PC, and a way to manage your cables along with stands for monitors and mics to reduce clutter and maximize your space.
Here are a few of the best gaming desk models and shapes for any gaming setup:
L-shaped/Corner Desks:
Corner desks are great for maximizing space, as they take up much less room than other desk types, while still providing enough surface area for any accessories you may want. They also have the advantage of not being in the way whatsoever, so a VR space or a coffee table to play board games with friends is viable. The extra leg/pc room is nice too!
Computer/Storage Desks: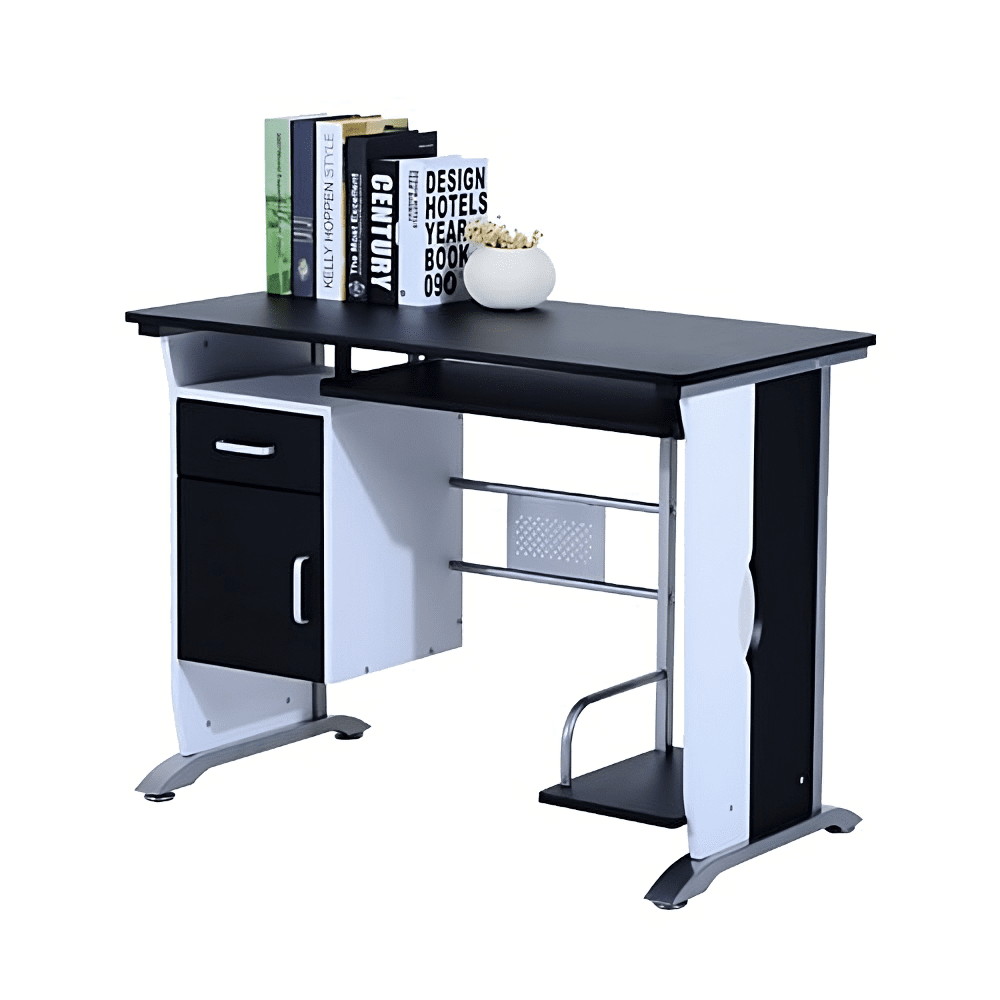 Computer desks are the best gaming desks storage-wise and offer a clean aesthetic due to the enhanced storage letting you make sure no cables or other hardware is exposed. Generally, these types of desks are the most feature-rich out of the bunch.
Standing Desks: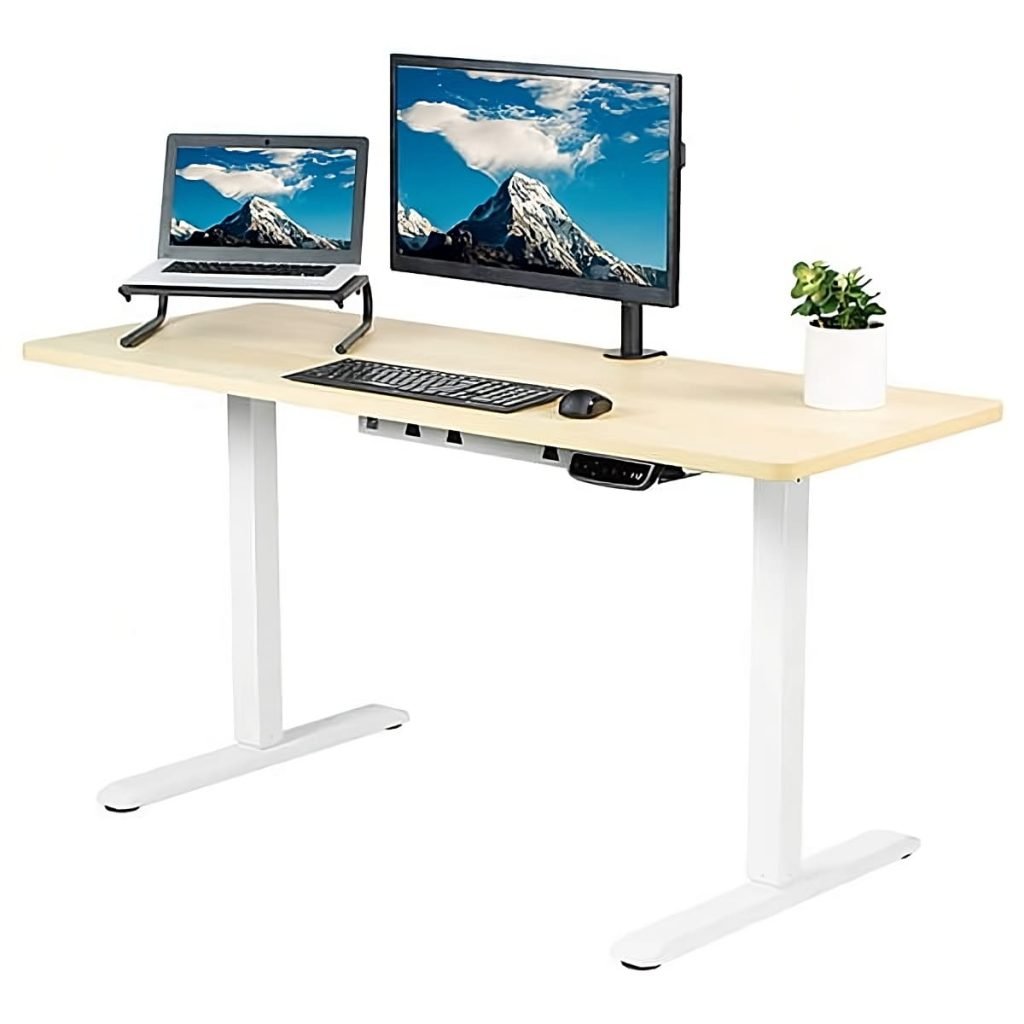 There have been numerous studies into standing desks, and it seems quite conclusive that they are generally more healthy for your back and are better for productivity. These aren't for everyone, but if you're interested then make sure you get a floor mat to help your ankles and lower back because standing for too long in one position leads to compression in those areas. Overall this is a more niche type of gaming desk, that some will love and some… won't.
If you don't fancy a standing desk but still want to give your back a helping hand, take a look at this next section on picking the best gaming chair.
Choosing a Gaming Chair
Choosing the best gaming chair for your gaming setup can be a difficult task, but making sure you pick the right one is essential to feeling comfortable in your gaming setup. I'd recommend doing a little research before you buy one because everyone's backs are different and everything from the shape of the chair, how firm it is, and what shape the armrests are can have a massive effect on your comfort.
You are going to want something that's ergonomic, to help keep you focussed in long gaming sessions, and dynamic, so you can lean forward when you're in a competitive online game and lean back and relax when you just want to watch a movie.
Here's a quick guide to what you should look for in a gaming chair if you're not sure:
Thick, high-quality cushioning that is washable to counteract spills and sweat

A strong steel frame with a high weight capacity and durability guaranteed

Head, neck, and lower back support

Padded armrests (preferably 3D adjustable)

Adjustable recline angles, swivel, and wheels for ease of movement
Here are a couple of examples of types of gaming chairs, from more practical options to options that prioritize aesthetics.
Choosing the Perfect Gaming Microphone
It's tough choosing a gaming mic when there are so many options out there. It can be overwhelming! Don't let the choices stress you out though; everybody has different preferences and needs when it comes to gaming mics, so you should have a look around until you find one that works perfectly for your setup. Trust me, taking your time to find the perfect match will make all the difference.
After all, high-quality audio can really push your gaming goals – whether it's broadcasting on Twitch, interacting with other gamers in a social setting, or communicating with your teammates while playing like a pro, having crystal clear comms should be at the top of your to-do list! So don't hesitate; take some time to research and test gaming mics until you're sure yours is right for you.
Monitor Stands, Mic Arms, Mouse Pads, and Cable Management
When it comes to creating the perfect gaming setup, every detail counts. Monitor stands, mic arms, mouse pads, and cable management are just a few of the pivotal things you need to consider that come together to make sure you stay comfortable while in a game and get the most out of your gaming system.
You want all these pieces to be sturdy and reliable, so make sure you do your research before buying. It's always smart to ask around what others who share a setup like yours use as well! Choosing the right products doesn't have to be hard if you know where to look: ask a knowledgeable friend or explore some online forums for help with finding the products best tailored to your needs.
All of these things are critical as finishing touches, and although not essential for gaming, they are pivotal to tying a setup together.
Now that you've built up your foundations, you're ready to start decorating and adding accessories to really create an unhindered experience every time you game!
3. Developing The Style of Your Gaming Setup
Creating the ideal gaming setup can be like playing a real-life version of Tetris. You have to figure out which components pair together just right, depending on space and usage needs. A gaming setup is tailored to each individual's style and theme, from minimalistic ergonomic desks to full-on gamer caves with neon signs and streaming equipment. Crafting an amazing gaming room can take a while, but if you are willing to invest time and money into it, it can become a really special, one-of-a-kind gaming space.
Choosing Your Color Scheme
Whether you are creating a fantasy-themed game room or setting up a cozy gaming nook, having a cohesive color palette is essential to tie a space together. Different colors can tie into your theme, or provoke a certain mood and aesthetic. Here's a handy graphic to show you some commonly attributed emotions to certain colors.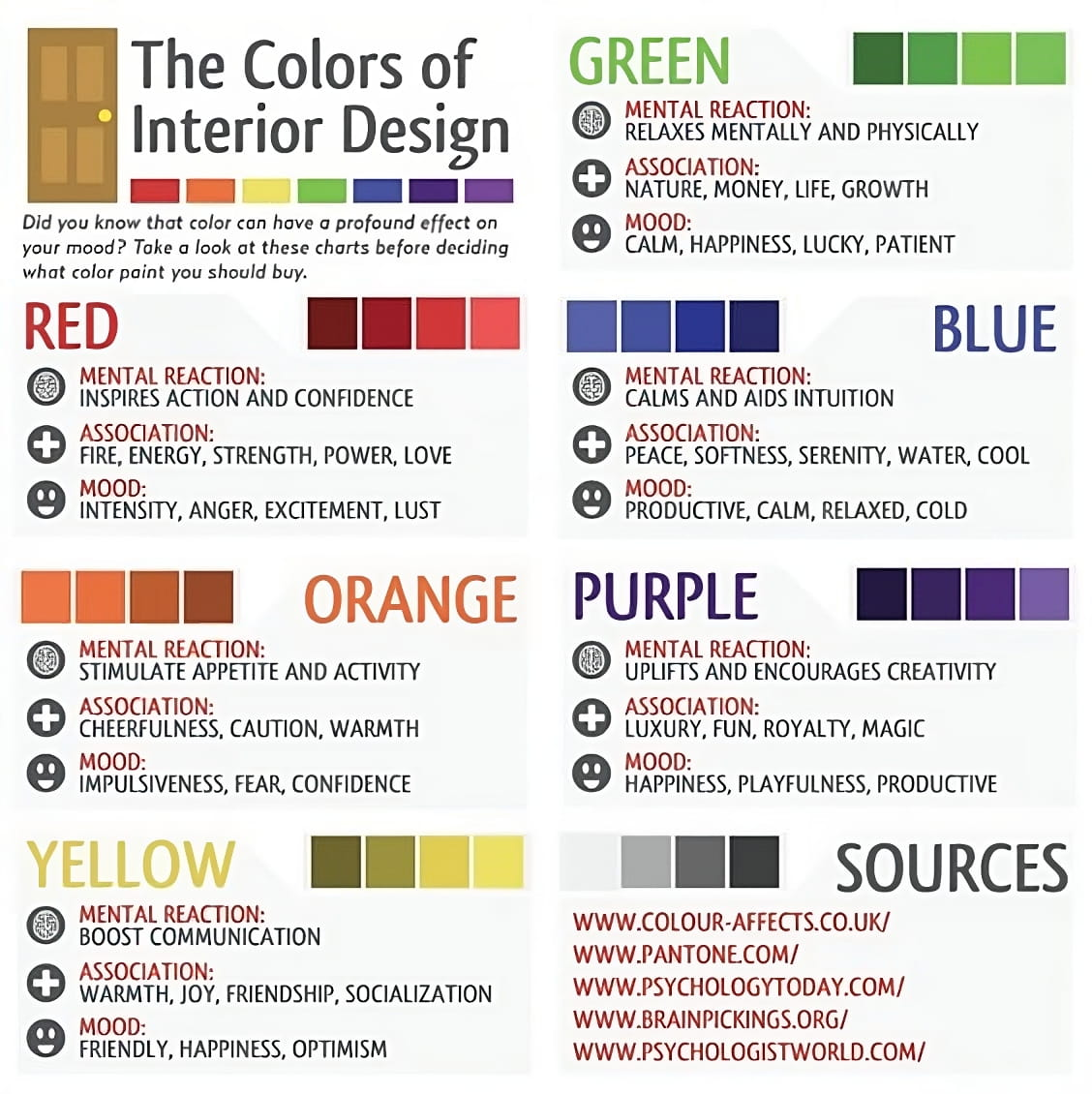 It's important you choose colors that go well together and keep the overall spread of colors to a minimum, to reduce clashing. Choosing complementary colors can go a long way to making your setup feel cohesive.
Minimalism vs Maximalism
These two principles go a long way when creating a gaming setup, and are applicable to almost any theme and setup. With over 3 billion people​ playing video games nowadays, it's no surprise that gamers are looking for ways to make the gaming setup of their dreams a reality. Some opt for minimalistic, streamlined looks while others try to maximize their gaming setup with all the gizmos and gadgets they can get their hands on.
It all depends on your style and what you want your setup to say about you – whether it's sleek and modern or crammed with memorabilia that represents your interests and cool accessories. Whatever theme your setup takes, both are more than viable. It all depends on what type of feel and atmosphere you want to create with your setup – a more chilled and calm environment, something cozier, or a testament to your fandom and passions. Almost every theme/genre of setup can have a different feel to it depending on the colors and style it uses.
What are Gaming Setups?
In today's world, "gaming setup" has become a household term for dedicated gamers. But what does it actually mean?
Well, a gaming setup consists of the hardware, software, and peripherals used to power your gaming experience. Your gaming setup could be anything from the latest powerful PC rig to an old-school console paired with a comfy couch.
Whether it's upgrading your current hardware or building from the ground up, having a setup that is right for you is pivotal to having a good gaming experience.
What do I mean by "the right" setup? Well, that really depends on your personal preferences. Everyone has different needs and preferences – whether that's a more laid-back, cozy style or a sleek, modern aesthetic.
Conclusion
So, now you're ready to create your gaming setup! When properly configured, your gaming setup should provide you with an enjoyable and immersive experience. Finding the right balance between the hardware, software, peripherals and other devices is the key to getting the most out of your gaming setup. With a little research, trial and error, and creativity, you can configure a setup that will give you hours of fun – no matter what type of game you're playing.