It's time to get your game on! Whether you're a hardcore gamer looking for the ultimate gaming setup or a casual player wanting to create a space to enjoy your favorite tabletop games, I've got you covered. Check out my 21 best gaming setup ideas for the perfect gaming experience.
From cozy nooks to high-tech setups, there's something here for everyone, because whether you're an electrical engineer or a fantasy writer, everyone needs a space to settle down and chill once and a while. So what are you waiting for? Start planning your dream gaming setup today!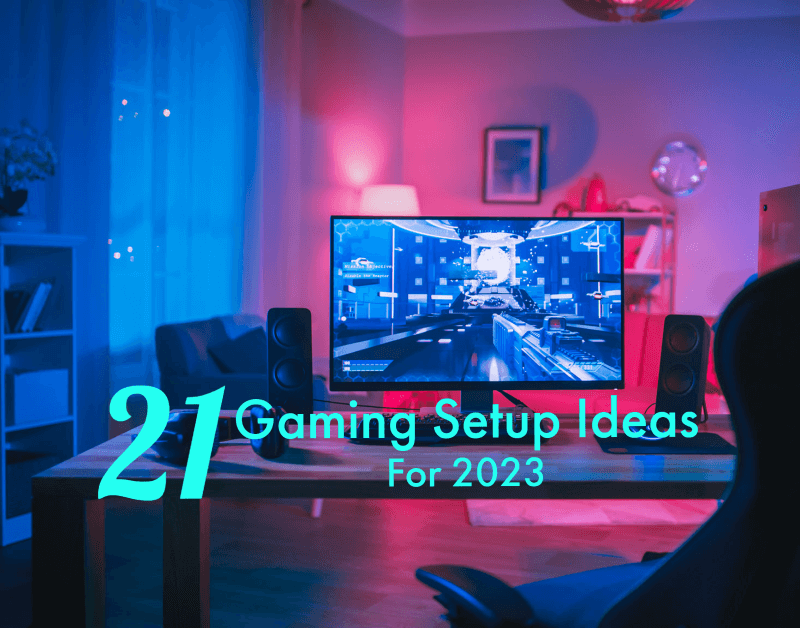 Table of Contents
21 Top Gaming Setup Ideas:
I have curated a list of my 21 best gaming setup ideas, ranging from simple and cozy, to high-tech and sleek.
I've also linked buying checklists for each of these setups so that if one of these gaming setup ideas lights a spark for you it's easy to bring your dream gaming room to life!
Whether you're a passionate gamer, who loves to have the latest technology at your fingertips all the time, or just someone looking for a nice little space to play board games with friends and family, this list has got something for everyone.
Streaming and Content Creation Setups:
Your smartphone may be enough when you're dabbling with live streaming/content creation to see if it's for you, but eventually, you may realize you want to start taking live streaming/content creation more seriously. That or maybe you're the type of person who likes to get it "right" from the start.
If either of these is you, you'll want to set up a professional live-streaming studio so that your brand appearance matches your ambition, and you are taken seriously in the streaming world.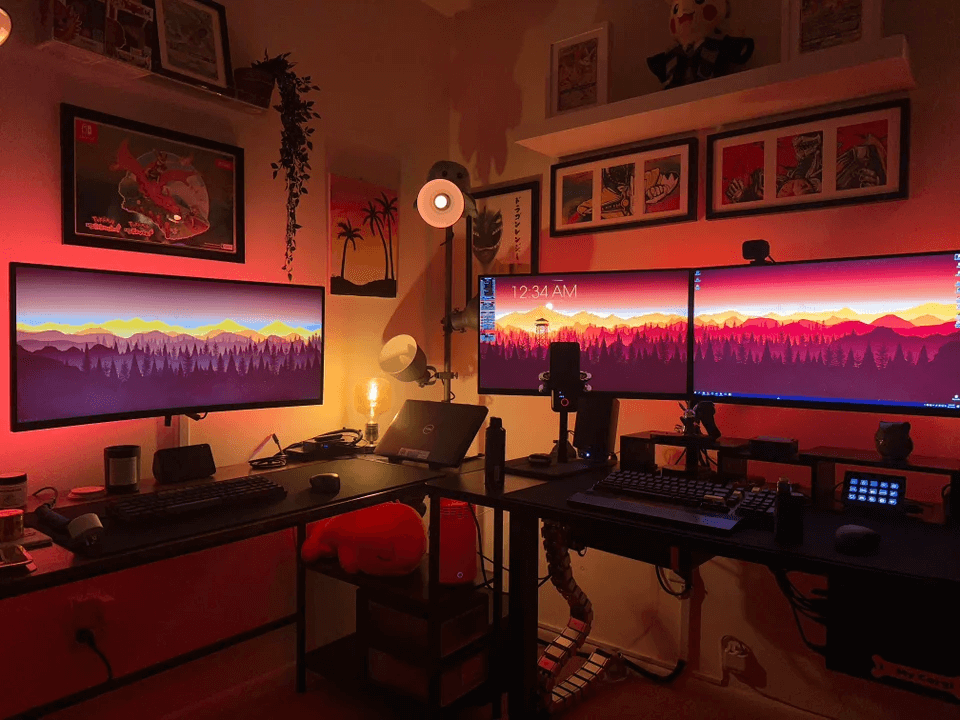 This cozy orange/sunset-themed streaming/gaming setup makes use of ambient lighting for atmosphere and provides lots of desk space. The dual monitors and audio control unit contribute to a seamless streaming experience.
Credit – u/bestnokuestion
This streaming/gaming setup also takes advantage of atmospheric lighting but also remains practical with the addition of a ring light. The addition of the vertical monitors is ideal for using voice chat software and reading your live chat while you stream. For many, a setup like this is the ideal streamer/gamer room.
Credit – u/Haenjos
This streaming/gaming setup is pretty unique given it only has one central monitor. The lighting is great and the colors are cohesive.
Credit – u/BigE_Reddit
Cozy Desk Setups/Gaming Setup Ideas:
As someone who works from home, I'm always looking for ways to make my workspace cozier and more productive. Fortunately, creating a warm and inviting workspace doesn't have to be expensive or complicated – all you need is some rustic wood, lush plants, and some soft ambient light.
Start by finding an ideal spot at home with plenty of natural light – this will help create an uplifting atmosphere on even the most dreary days. Add a desk made from rustic wood (perhaps one you picked up at the local flea market) for a cozy touch that's sure to inspire creativity.
Don't forget to include some greenery! A few houseplants are not only aesthetically pleasing but help purify the air while they're at it. Finally, consider adding some warm ambient lighting – perhaps a string of fairy lights or even an old-fashioned lamp – so your workspace can be illuminated just right no matter how late you work/game.
With these simple tips in mind, making your home office or gaming setup cozy should be easy!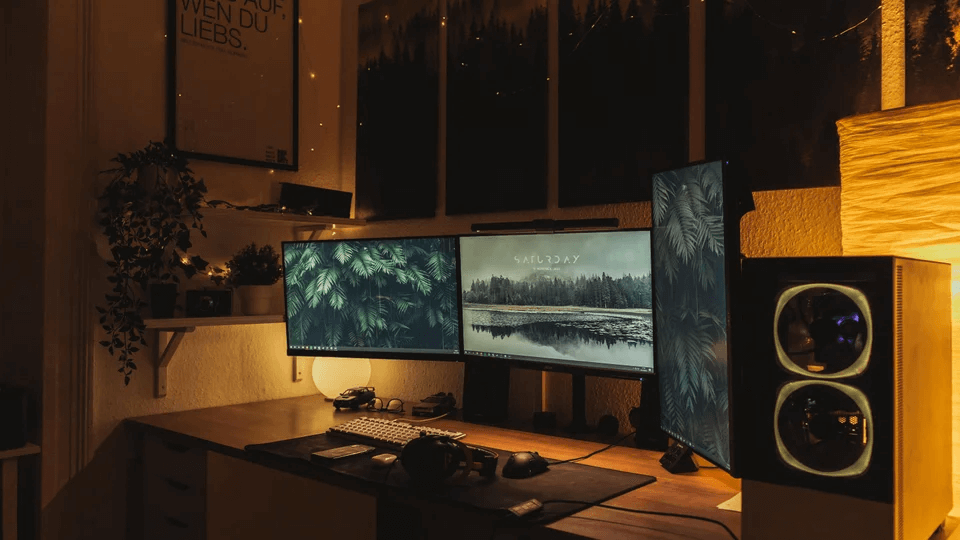 This awesome gaming setup is the perfect spot to work and chill out. All of the decor is affordable, most of it being available from IKEA. This is one of my favorite-looking gaming desk ideas.
Credit – u/King_Candy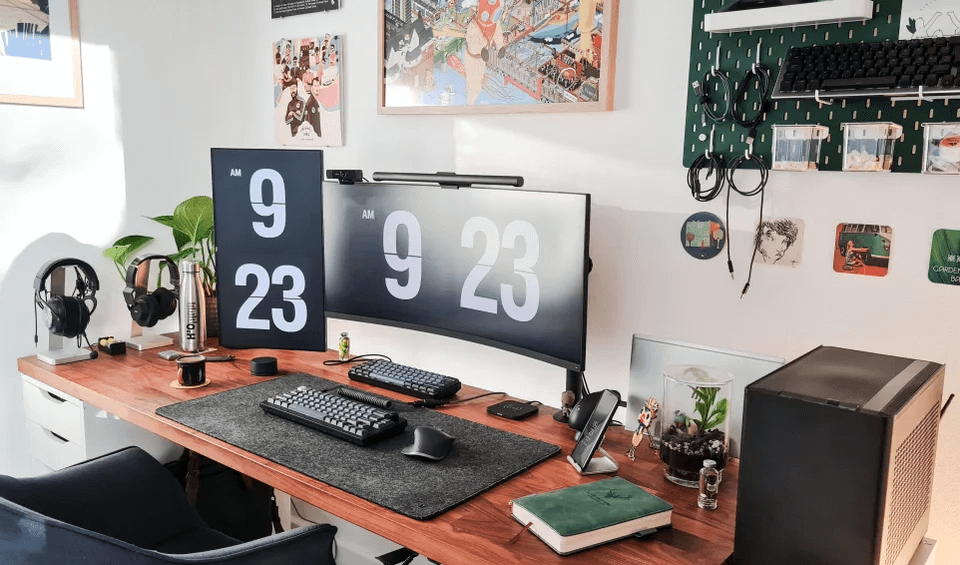 There is definitely a theme with these cozy gaming setups – they all have a color palette of greens, whites, warm oranges, and browns. This is a great inspiration for any casual gamer looking to create a PC gaming setup.
Credit – u/macxis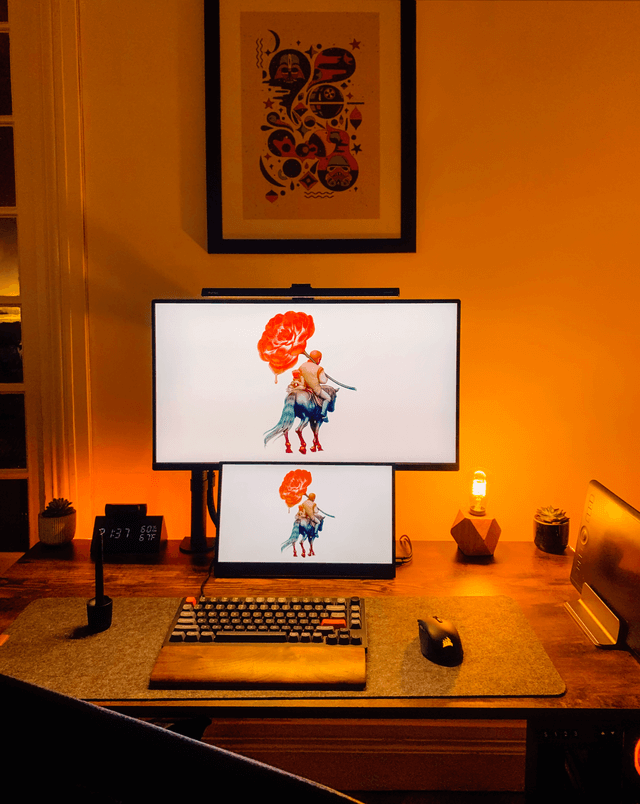 This gaming setup makes use of a fireside aesthetic, with a warm orange as the predominant color. The orange accents on the keyboard bring this gaming setup together and make it feel cohesive across the entire room.
Credit – u/phillipjpark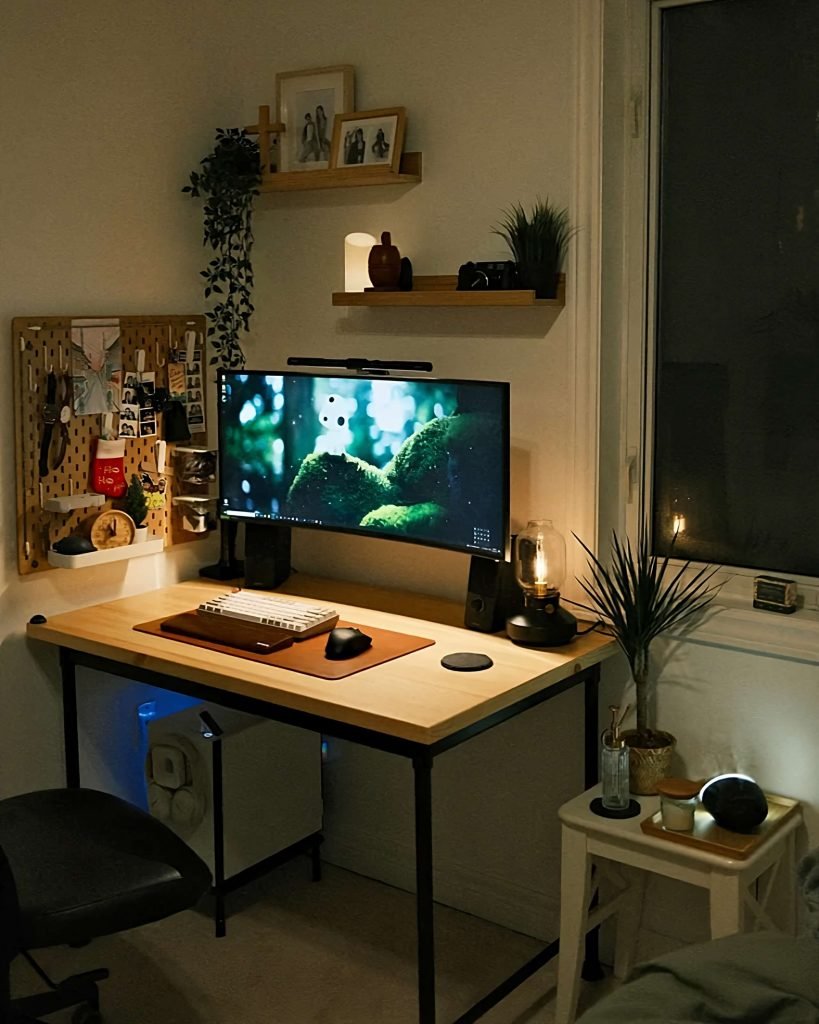 This cozy corner gaming setup is a good example of how shelving and wall coverage can really bring a smaller space together. The wooden desk ties together with the wrist rest and mousepad, and the abundance of plants (real or fake) is a nice touch that matches with the wood too.
Credit – u/Alkatap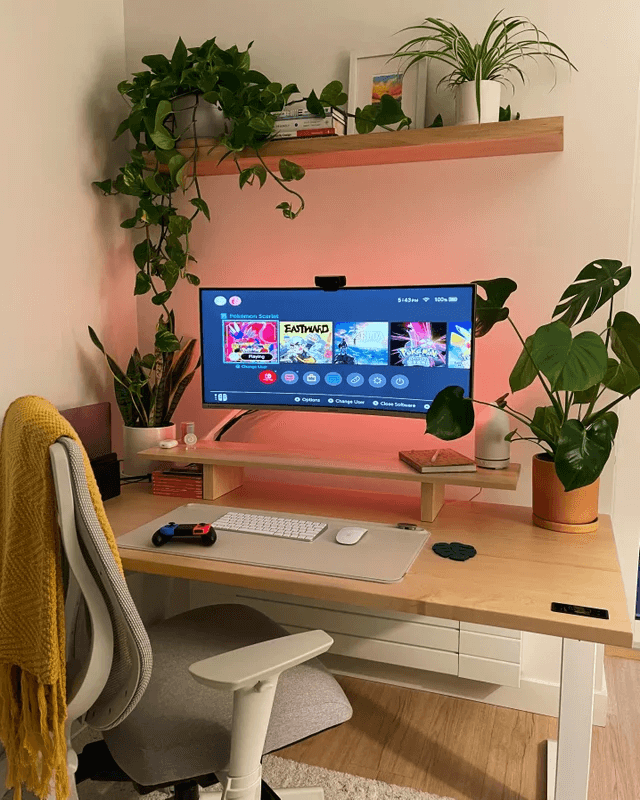 This game setup is nice, clean, and simple. Having good cable management and a clutter-free desk goes a long way for the entire setup. Having a raised portion of your desk keeps smaller things out of your way while still having them easily accessible.
Credit – u/_teddiursa
Anime-Inspired Gaming Setup Ideas:
Embrace your inner anime nerd and take gaming to the next level with an anime-themed gaming setup. Whether you are a collector of manga, trading cards, or memorabilia, rustling up an anime-inspired desk setup can propel your whole gaming setup to the next level and provide a pretty cool display area for your collection.
By leaning into color themes like pink/purple and combining wall art backdrops and stylish display shelves, you can establish a truly unique environment for your ultimate anime-watching/gaming retreat.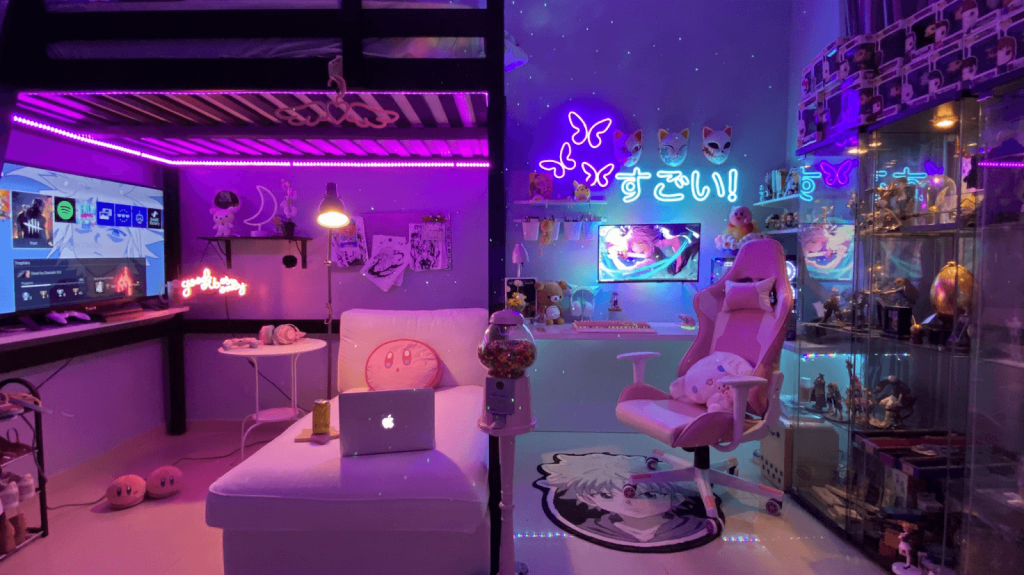 Let's start off with a bang – this gaming setup is the pinnacle of fandom – and any fan's dream gamer room. From themed rugs to neon lettering on the walls, to a massive display cabinet – this room is the culmination of everything an anime fan could ever want – it even has a gumball machine!
Credit – @shryma on Twitter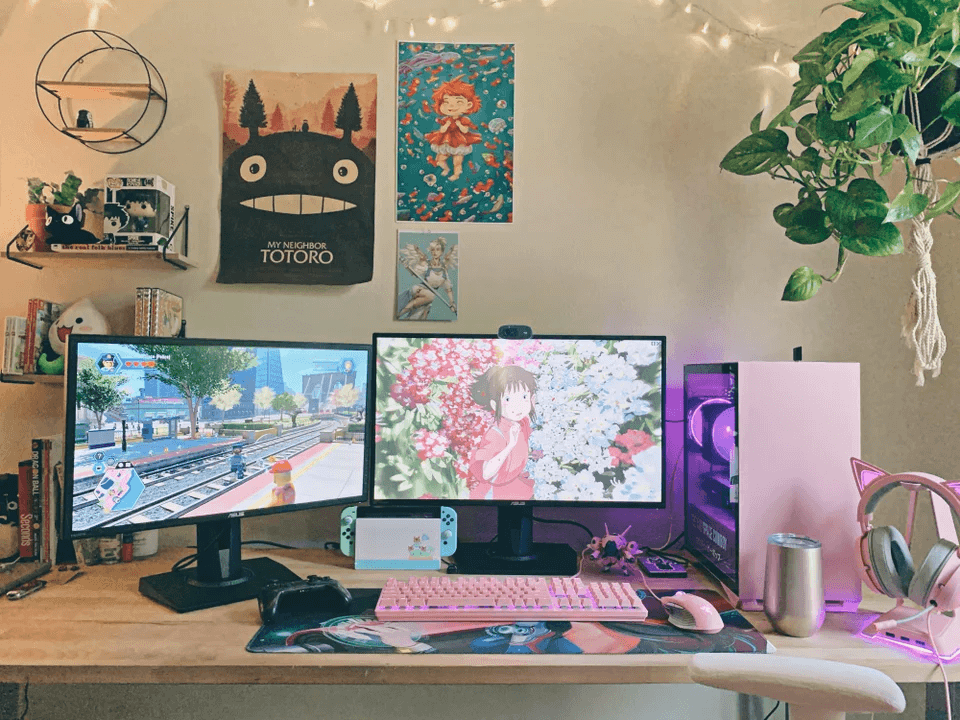 This gaming setup is kind of a hybrid between an anime/studio ghibli style and a more cozy vibe. It makes use of a pastel pink hardware theme, and due to the warm lighting, plants, and soft colors is very inviting. It could be a little better if they added a monitor arm instead of stands to clear up the desk space.
Credit – u/f0xinq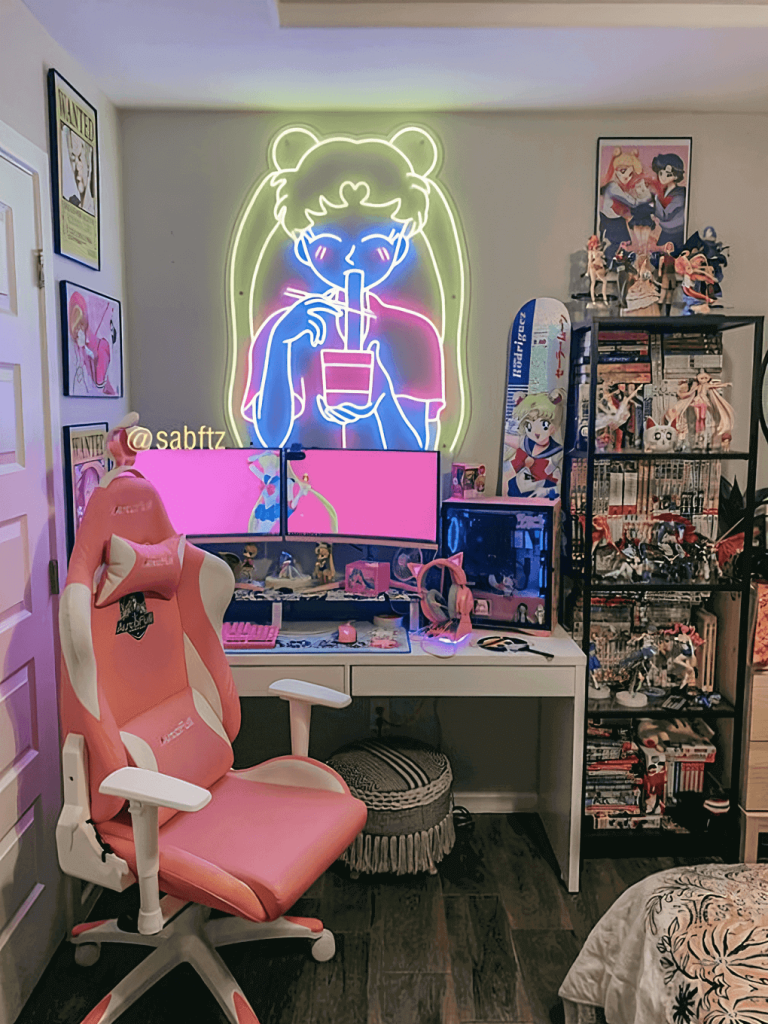 This gaming setup has an amazing custom neon sign and makes use of wall art and an anime-themed skateboard deck. This gaming setup has a pink hardware theme too, but this time with a pink gaming chair as well.
Credit – @sabftz on Twitter
Minimalist/White And Black Gaming Setup Ideas:
If you're looking to revamp your gaming space, a white minimalistic gaming desk setup may be the way to go! This classic style will bring some order to your chaos and optimize the look and feel of your gaming area. It's surprisingly easy to pull off this style of gaming setup without huge expenditure or continuous upkeep burden.
All you need is a simple gaming desk, a few sleek accessories, and the right approach to organization. After all, sometimes less really is more! Whether you're using it as a home office, or gaming setup, this elegant but simple look will serve you well for years to come.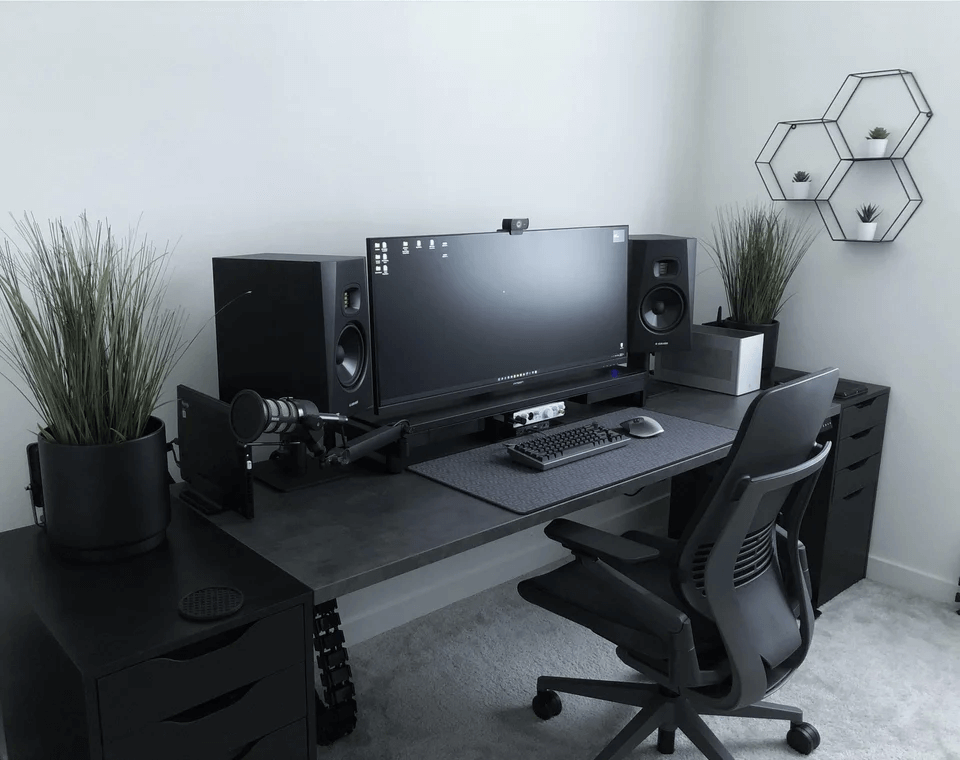 Investing in a monotone color palette really works well for these types of gaming setups. This setup is sleek, and everything from the office/gaming chair to the mousepad ties in with each other.
Credit – u/jxlee89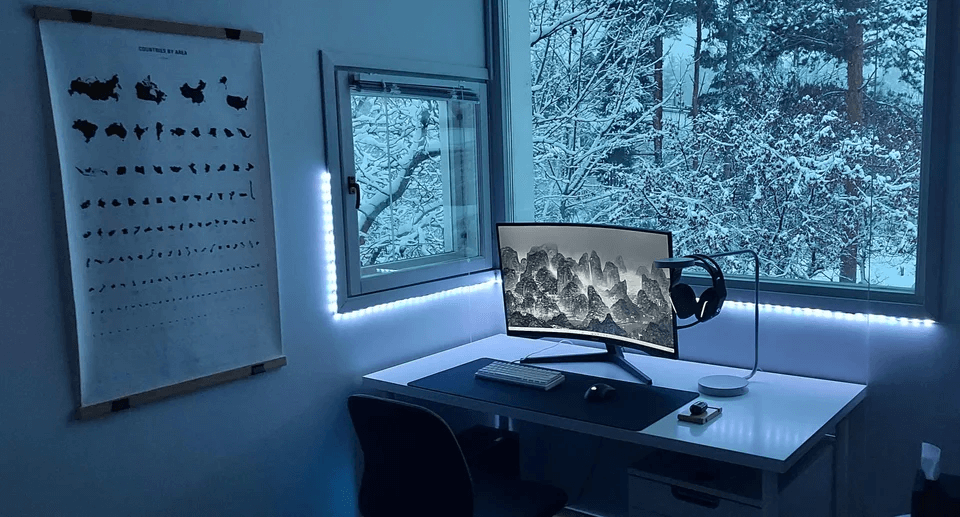 This gaming setup makes good use of the space it is in. Having a window in front of your setup lets you admire a spectacle without having to clutter up your desk and is amazing for natural light.
Credit – u/Dry-Ad7033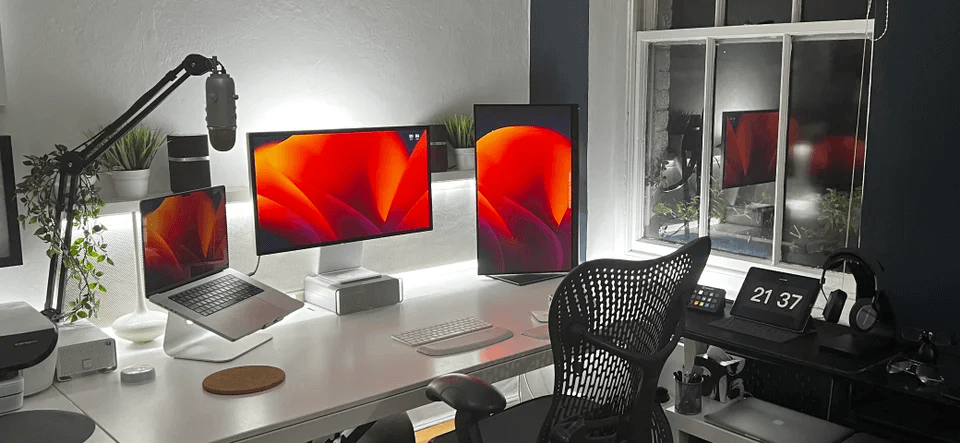 I love the combination of stark oranges, blacks, and whites in this one! The plants provide a great accent to the orange as well! A cohesive color palette makes a big difference.
Credit – u/Sketaverse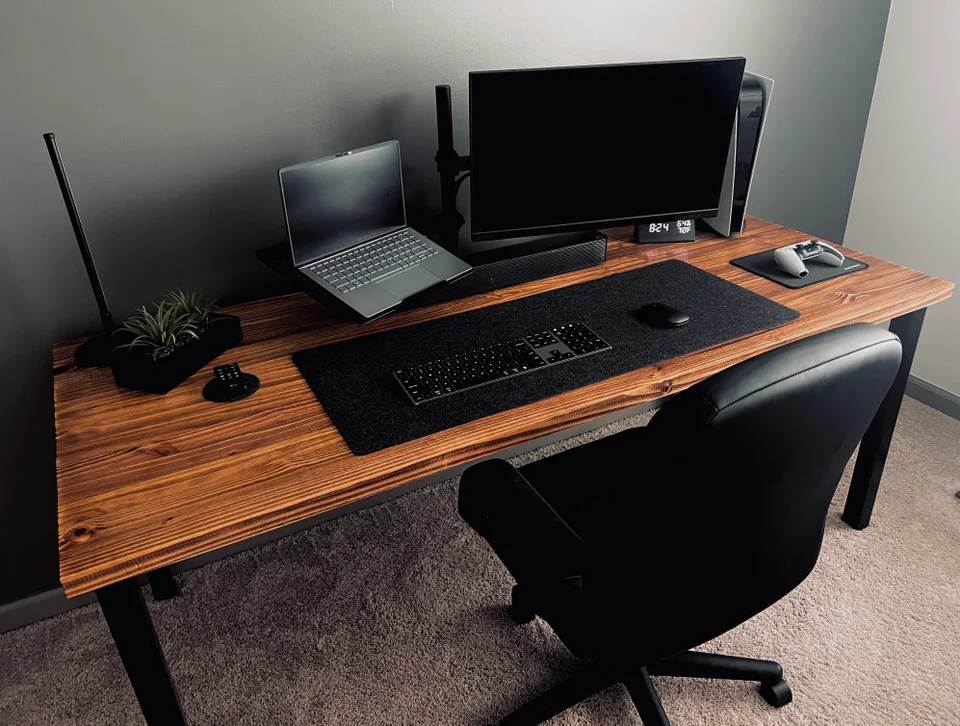 This awesome gaming setup is refined, elegant, and simple. It isn't too modern, with a touch of greenery, and a hand-polished rustic wooden desk, but the all-black accessories keep it feeling sleek.
Credit – u/MindOnNicotine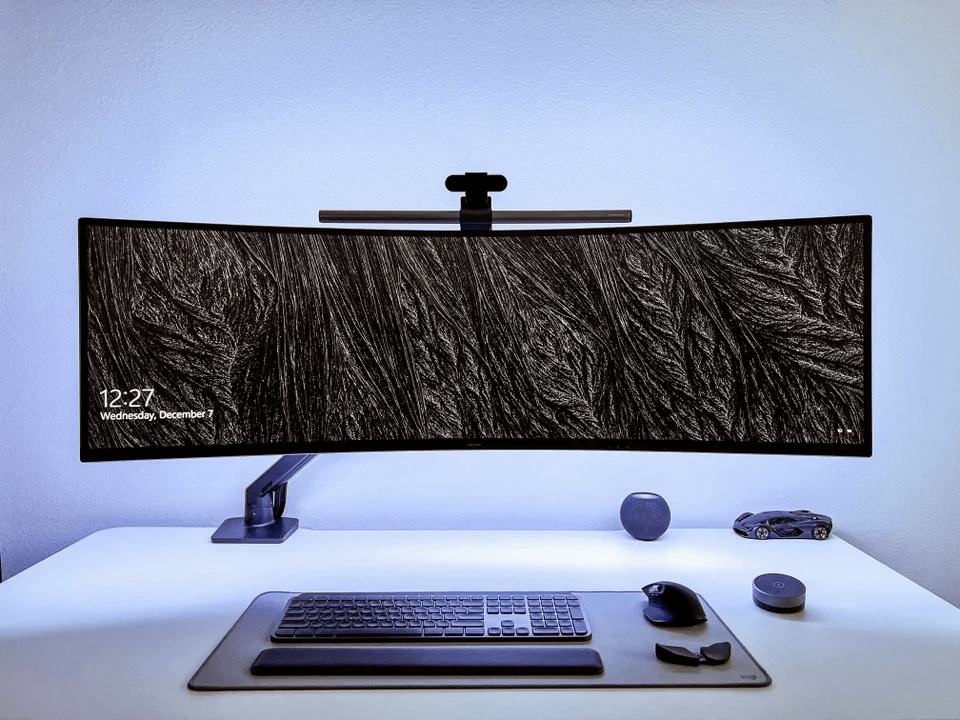 You can't get more basic than this, this beautiful home office/gaming room setup makes use of a simple black-and-white color scheme, and is emphasized by some dramatic lighting from behind the monitor.
Credit – u/VA_STI
Small Gaming Setup Ideas:
Setting up a gaming room may seem like a daunting task – especially if you're tight on space. However, it is far from impossible! With a few creative ideas, you can take large-room ambitions and apply them to any size of setup.
Whether you're looking for the perfect spot for board games or a hideout for video games, setting up your dream gaming room setup can be achieved without breaking the bank or expanding your walls. So let's get started and find out how we transform any space into a one-of-a-kind game oasis!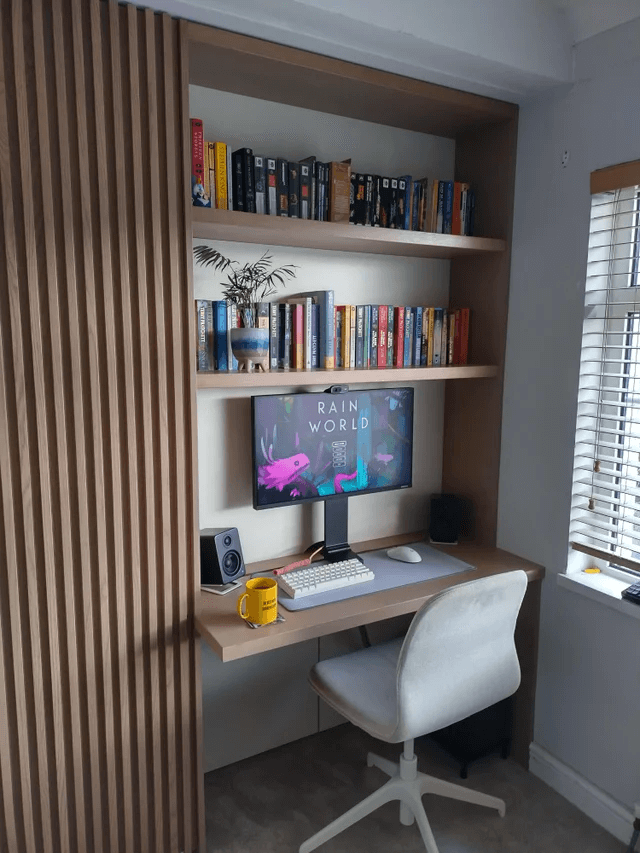 The key to maximizing a small room is utilizing the floor space – and the best way to do that is to put furniture in the corners. It's even better if you can combine that furniture, for example, this gaming setup – a bookshelf, desk, and closet all in one.
Credit – u/Crumpet-Zone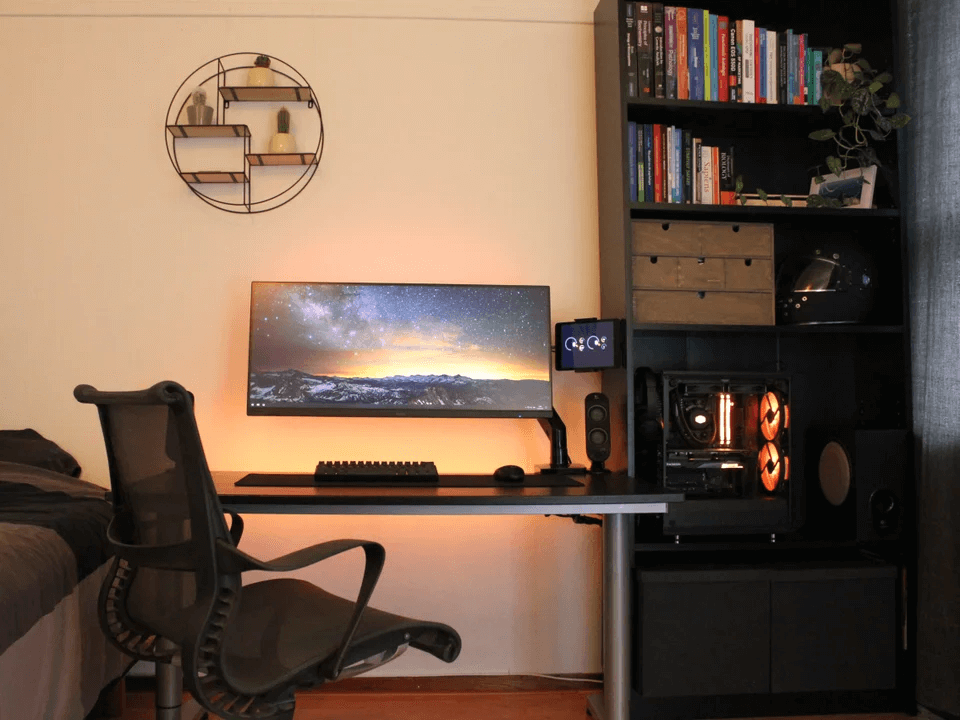 This small gaming room setup is a good example of making use of the space along the wall. Having all the furniture along one wall keeps space open in the middle of the room.
Credit – u/DrPh1ll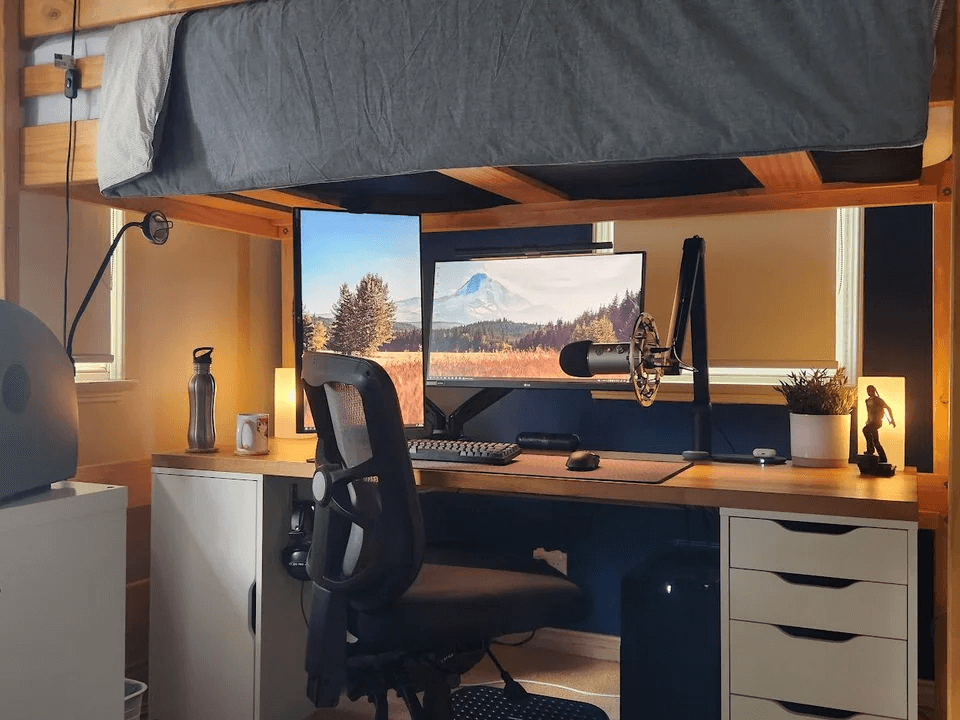 Another great way to minimize the space taken up by a gaming room setup is to use a loft bed, as doing so gives space for a bed and your gaming setup without taking up all of the wall space in the room.
Credit – u/raymondafcripps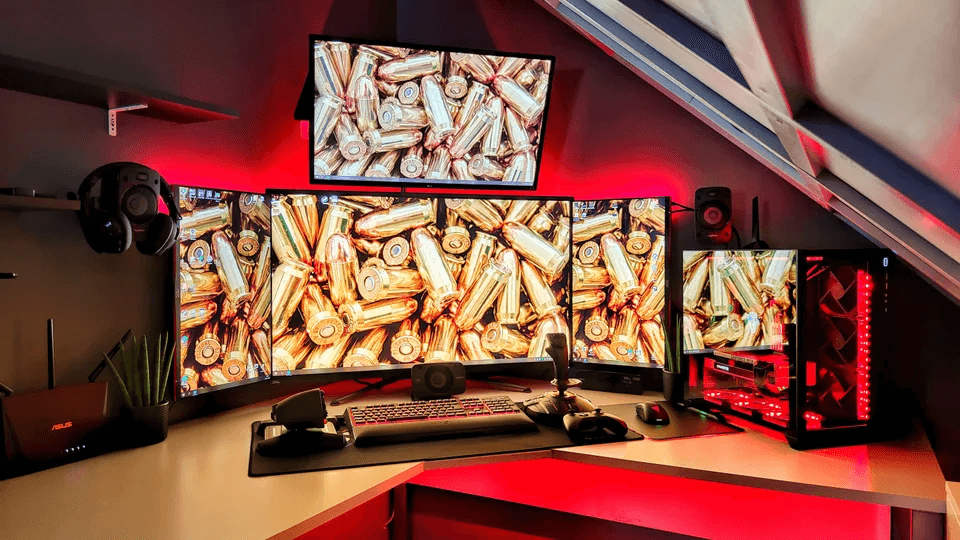 In attics/lofts such as this, it's great to have a desk facing outwards from the corner to counteract the sloped ceiling and give you lots of headroom when you are gaming!
Credit – u/LianLi2080Ti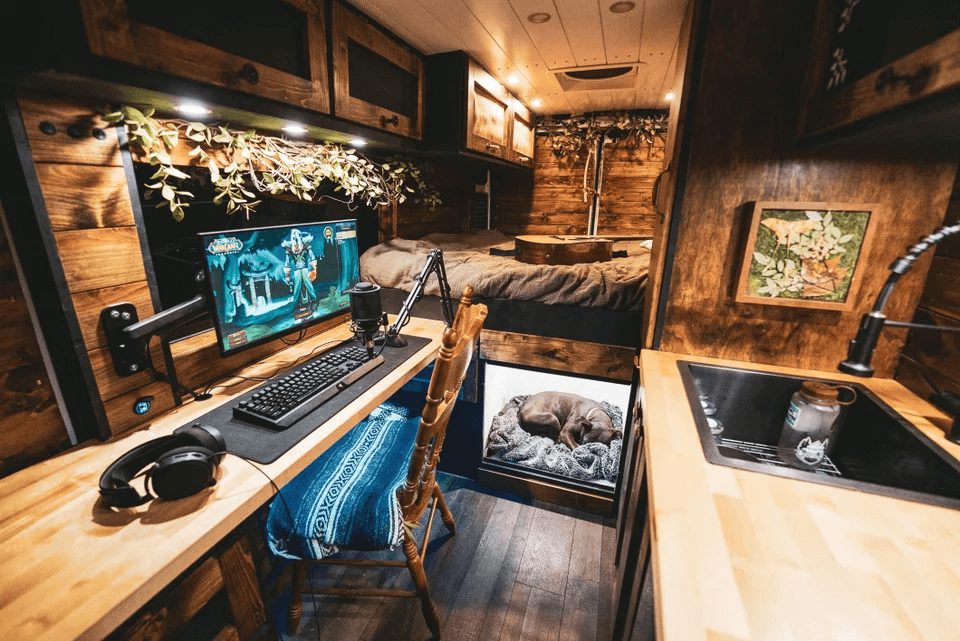 This small gaming room setup is different from the others – given that it's in a van. A cool trick used here is having the monitor arm be foldable to let the space easily act as a multifunctional surface to study, eat, or even chop vegetables!
Credit – u/ttthefineprinttt
Hardcore Gamer Gaming Setup Ideas:
Everyone has their favorite video games that they love to play, and what better way to enjoy them than in a hardcore gamer gaming setup/gaming room?
With such a gaming setup, you can really get the most out of your favorite titles, as you'll have the perfect environment tailored around hosting intense gaming sessions.
With comfy furniture, the latest console systems, and high-end sound and visuals, you'll be able to immerse yourself in whatever world your favorite games present. Don't hesitate – build your own hardcore gamer paradise today!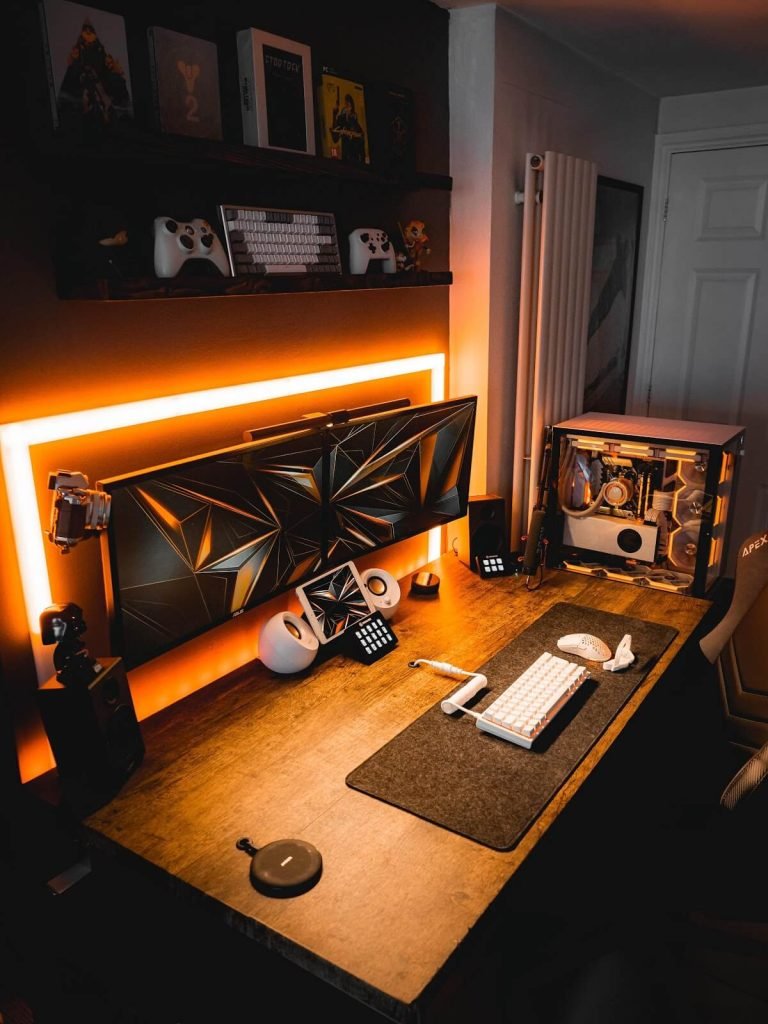 This gaming setup is the perfect blend of aesthetic and functionality, making it the ideal place to spend many an hour grinding your favorite video games. If you are committed to your current gaming setup and would like to cut down on the clutter, consider following this gaming setup's advice and drilling holes into your desk to help with cable management.
Credit – u/Reptronboy
This gaming setup uses wall panels to tie together the room and the setup and uses lights to emphasize the pattern on the panels. This kind of RGB lighting gaming setup is most gamers' dream game room and would be a perfect place to indulge in your favorite games.
Credit – u/LateOutlaw
This gaming setup uses complementary colors as accents and maintains a more mute color scheme otherwise, with mostly creams and whites – no RGB lighting. It is a good example of how to tie together two separate setups with plants and a cohesive palette. Add on a sleek gaming chair and you're on your way to having a perfect gaming experience.
Credit – u/SimplyPops
Japandi Gaming Room Ideas:
This up-and-coming design trend is a mixture of Scandinavian minimalism and Japanese impressionism (in the end it's kind of a more cozy version of minimalism.) I wanted to showcase it here because it is a style I see many people using in their gaming rooms without knowing its name.
This style is not by any means new. The Japandi style came to fruition over 150 years ago. When Japan lifted its closed border policy, the Danish were among the first to visit in search of inspiration. Their appreciation for what they saw in Japanese design can be seen even today.
It isn't just the Danish who were inspired, but the Japanese as well! You will still see Danish designs being highly sought after in Japan. As a result, Japan's 'Wabi Sabi' and Denmark's 'hygge' have one important feature in common – simplicity.
The Japandi style is the culmination of a long history of mutual appreciation, with elements from both cultures.
If you are looking for a minimalist, clutter-free setup, but can't bear the barren aesthetic, these Japandi gaming setup ideas are for you!
This gaming room utilizes funky wall textures and tactile decor to tie together the space and give it a matte terracotta feel. It has sculptural shelving and furniture that is practical and contributes to the aesthetic.
Credit – vtwonen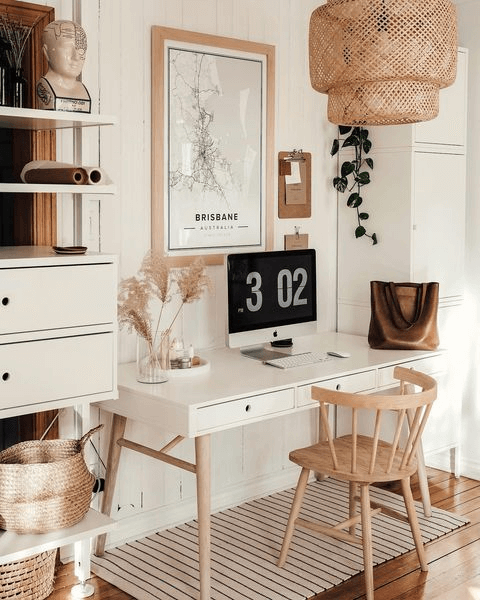 Credit – @BrookAndPeony on Instagram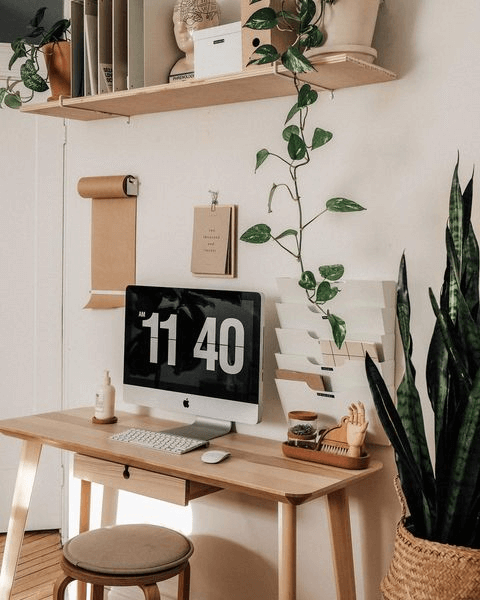 These two gaming room setups (both created by Brook And Peony) show how to use simple furniture pieces paired with a color scheme of light natural wood and white can create a base that goes with any accessories that you may want to add on, whether that's plants or nice leather mousepads.
Credit – @BrookAndPeony on Instagram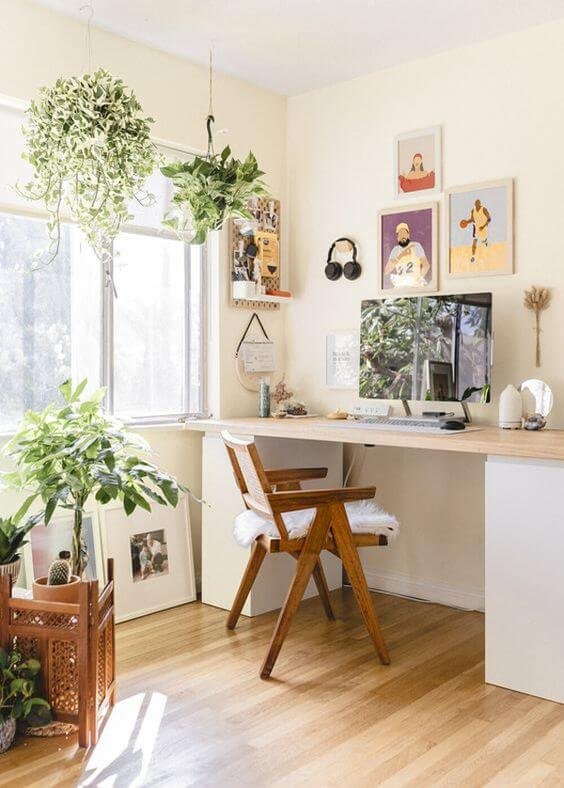 This is a really simple setup that uses a DIY IKEA desk and some basic wall decorations. Although not the most complex setup, it is easy to make and just works. Plants never hurt either.
Credit – bylisalinh
Conclusion:
I hope these gaming setup ideas took you all one step closer to creating your very own gaming rooms that you can be proud of. I wanted to make sure that these were all not only high-quality photos but also high-quality setups in themselves. Now that you've seen my top 21 gaming setup ideas, it's time to go make your own gaming room! Whether you go for a high-tech vibe or something a bit more retro, now is the perfect time for a makeover – your future self will thank you! So get creative, grab your favorite snacks, and game on!