Are you a budding author, looking for help with your writing? Or maybe you're an experienced writer, looking for fresh ideas and insights? If so, then Novel AI is the perfect writing tool for you!
Novel AI is an artificial intelligence-based program that helps authors write better stories. It uses natural language processing (NLP) to analyze existing writing and suggest new ways to phrase your story. It can also provide helpful tips on structure, plot points, and character development. Let's take a closer look at what this amazing AI story generator can do for you.
Table of Contents
How Does Novel AI Work?
Novel AI harnesses advanced artificial intelligence algorithms such as deep neural networks, a subset of machine learning, to process information like the human brain. It also uses natural language processing that is specifically trained on various genres and types of literature to generate text that echoes the style and feel of your input.
Whether you're using the Storyteller feature or the Text Adventure mode, the Novel AI story generator uses these powerful algorithms and models along with real literature to expand on supplied inputs. Simply provide a prompt, and Novel AI will auto-write a portion to take the story forward.
To make the experience even better, you can also customize the output of your stories by selecting from different genre and writing style settings. You can also prompt certain types of writing, such as emotive, descriptive, or even dialogue.
Once you supply the first input or initial prompts, you can continue utilizing the AI story generator to build the world you want and take your plot forward. The tool expands on your ideas and text, but it allows you full control over it so that you can modify written content whenever necessary. You can also use Novel AI's image generation feature to populate your stories to truly bring your world to life.
Key Features of Novel AI
Storyteller mode – the main AI story generation feature of Novel AI, offering you full control over the content (easy edits, re-writes, and more).

Text Adventure mode – a text game that requires some imagination to set up. You input the setting and characters; Novel AI takes care of running the game based on your inputs.

Image generation mode – Novel AI also offers best-in-class AI image generation that works great for populating your stories and novels with images that match the theme, mood, and tone of your story. All it takes is a simple text input from your imagination, and Novel AI spits out a unique and original image.

Free trial – Novel AI offers an extensive free trial of 50 generations with zero card information or account setup required. You can just roll up to their website and start generating stories and creating text-based adventures in minutes.

Custom editor – you can customize the Novel AI editor's simple user interface to meet all of your preferences, including fonts, colors, and layouts.

Story encryption – all AI-generated content is encrypted so that it belongs to you and can't be stolen.

Can replicate many writing styles & authors – Novel AI utilizes machine learning to train its AI models to know how to write in different techniques and styles such as Stephen King or William Shakespeare.

Easy to use – includes an easy-to-understand tutorial – simply give it some input, and it generates creative and compelling output.

Complete adaptability – Novel AI seamlessly adapts to your input, keeping up with tone shifts, and different perspectives and styles.

With AI Modules, you can access a range of writing styles and genres, from classic to modern, or even train the software to your own preferences and create your own AI models
My Experience With Novel AI
Now that you have a basic idea of what Novel AI is, we can get into what your workflow will look like with it, whether you are creating a text adventure, polishing off your novel, or doing some creative writing.
At the end of this article, I'll also compare my experience with Novel AI to that of a few other AI story generators, and run through some pros and cons between some of my favorite AI tools for story writing.
Storyteller Mode
Let's get right into Novel AI's main attraction, their AI storytelling tool, made specifically for the creation of compelling stories, in any style or genre you choose.
To begin with, you'll want to create a new story workspace in your dashboard and select the storyteller tool to open the text interface.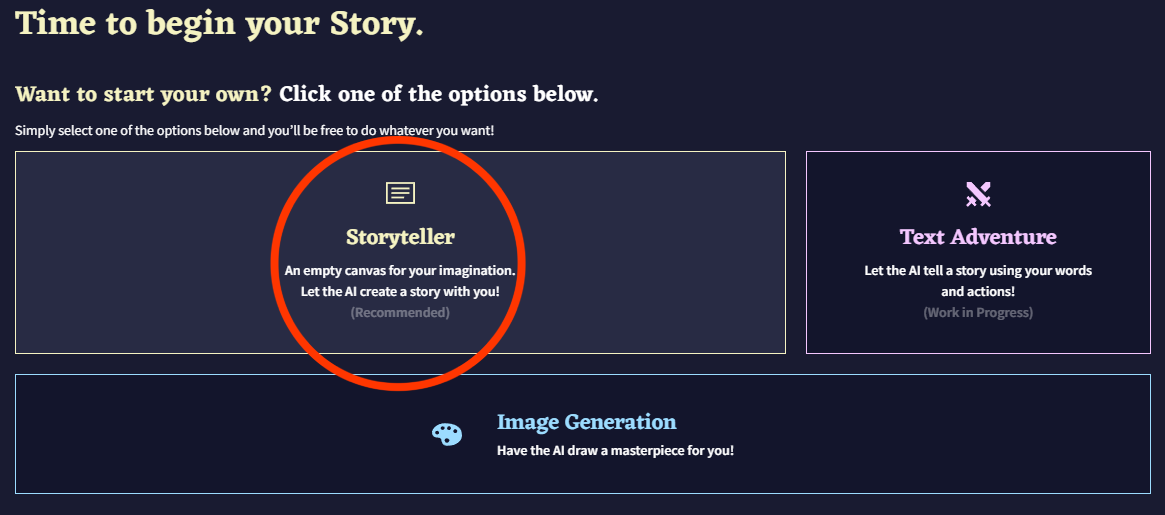 Ok! Now you're ready to start writing… kind of. The first time you see this editor it can be quite overwhelming, but I'll go over everything you need to know to set you well on your way to writing a compelling story!
Let's start with the settings on the sidebar:
There is also an advanced settings tab that allows you complete control over all of the parameters and settings to make Novel AI your perfect novel writing software. It's rather complicated though so I won't touch on it here.
These first two are probably the most important in terms of impacting what kind of text the AI is generating. The first option out of the two determines the AI model you want to use for writing stories. This will impact the general accuracy, speed, and power available for your text generations.
In most cases, it would be best to stick to the default Euterpe model for utmost consistency and coherency, unless you are a more advanced user and specifically need to use an older model for something in particular. (Alternatively, there is also a more powerful up-to-date model included at the higher price points.)
The AI module setting (the 2nd one) allows you to pick from many different writing styles and models tailored to match a specific author or genre. There is a vast library of these available, with community-generated models as well.
This setting is the main way to pick the genre and style you want to use for any generated text. You can choose from a variety of options, such as fantasy, horror, comedy, drama, and more.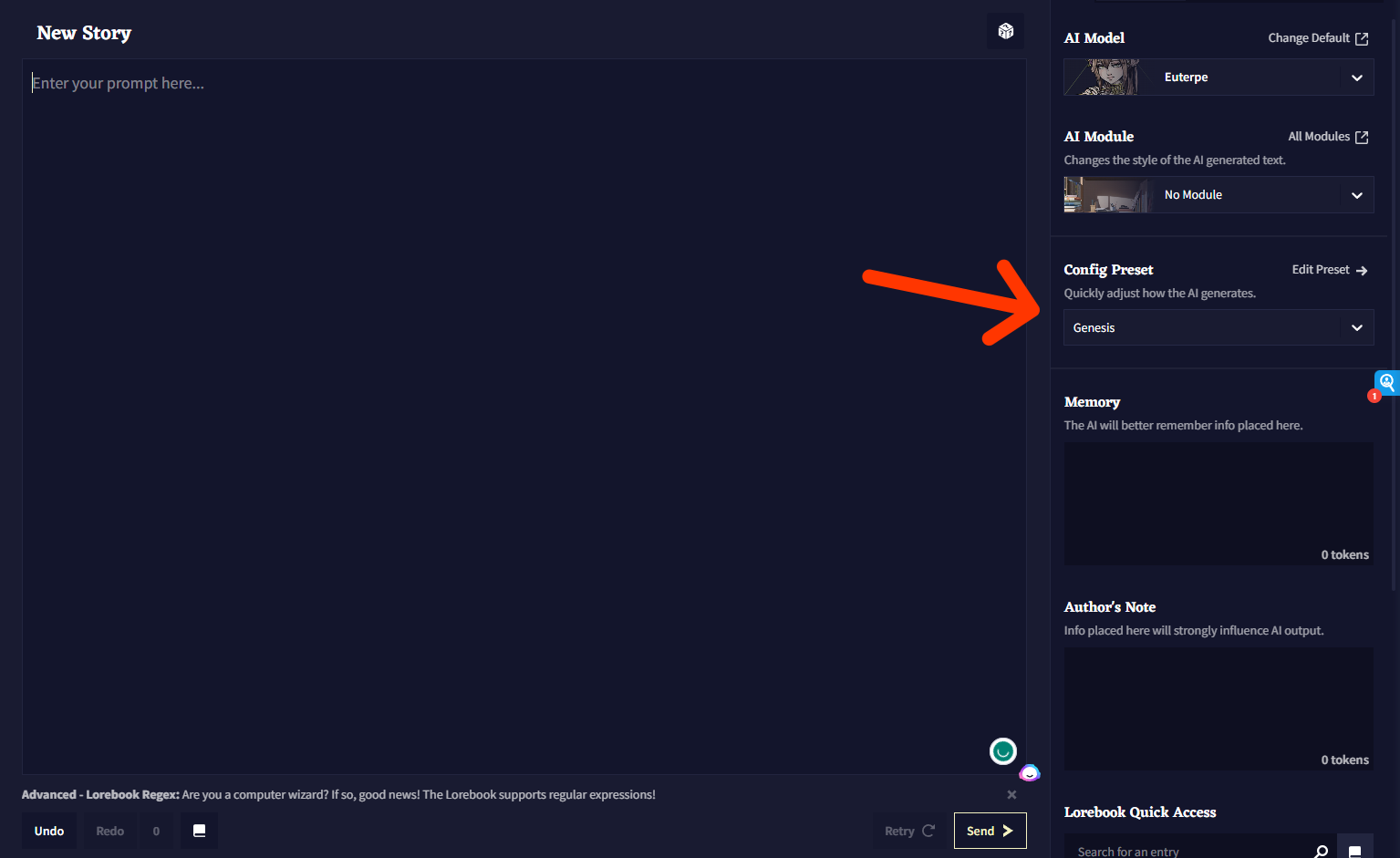 The Configuration Preset setting will allow you to select from multiple sub-models that impact the overall format and structure of the writing. This setting fundamentally changes how the AI model generates, and is ideal if you want to specifically create a poem, list, or dialogue. As with all of these settings, you can change the format the AI is generating in at any time.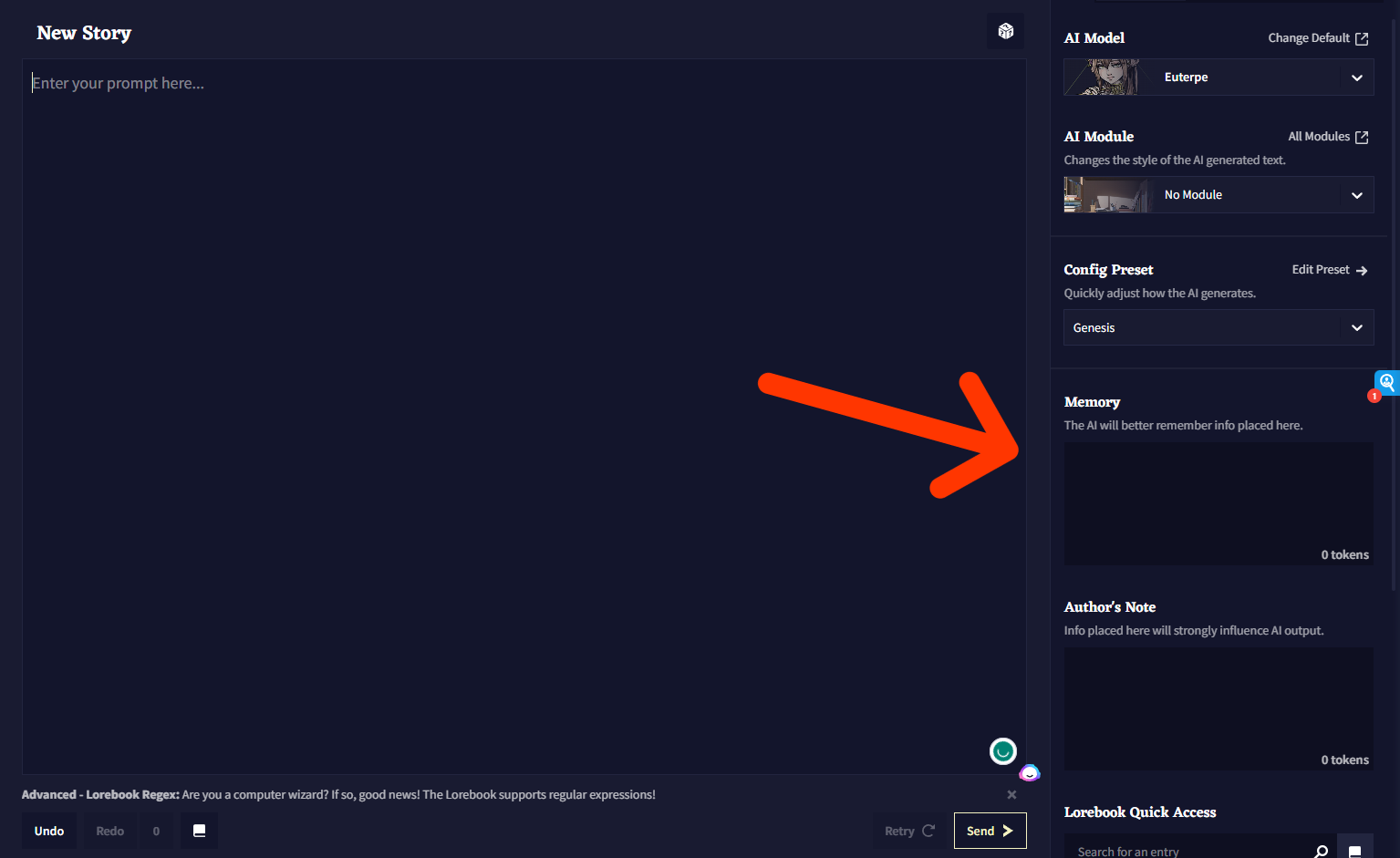 The Memory parameter will allow you to heavily influence the AI's next generations by inserting current key themes, settings, characters, and terms you want the AI writer to touch back on. This is really useful for setting up a new scene or character, or if you plan on tracking two plots at once across several pages.
The Author's Note parameter is similar to the Memory one, but instead is better suited for major all-encompassing themes and ideas. This can serve as a basis of basic knowledge that the AI needs to know to remain consistent with the rest of your story/world.
Now that you are familiar with Novel AI's basic settings and have your story set up, you can begin writing!
Starting to write with Novel AI's storyteller is as easy as typing out a few words to act as a prompt, adding in any detail or plot setup you want, and clicking the send button in the bottom right.
Novel AI makes sure you can easily tell the difference between the initial prompt (yellow), the text you have written (blue), the text the AI has written (white), and the text the AI has written but you have edited (purple) with a color-coding system. Here's a demonstration of Novel AI's skills.
Each time you press send, Novel AI will pump out a couple of sentences at a time, allowing for a more staggered workflow – meaning you have more control over individual sentences, with the option to rewrite only the generation you've selected.
Boom. It's as easy and intuitive as that. One button press and poof, there you are. With these on-demand pieces of fiction writing, you're well on your way to having an entire story written in no time at all.
Using Novel AI for worldbuilding and full novels
Novel AI includes an amazing tool called The Lorebook, which allows you to create a kind of glossary for the AI to circle back to when a certain keyword or phrase is used. This is essential for any writer looking to use Novel AI for a long-form project. The reason this is so necessary is because the AI can't look back in your story more than approximately 1500 words (depending on your plan.)
This means that if you want certain key characters, objects, or places to remain consistent, or for the AI to be able to pull certain key traits and context to use in its writing, you have to provide a kind of profile for key elements of your story that the AI will go over when a certain keyword or phrase triggers it (e.g. a character's name.)
If all of that didn't make much sense to you – don't worry – basically Novel AI can't view your whole story at once, so it needs you to provide little snippets of context and knowledge on certain recurring elements of your story that it can access through a key activation phrase that you define. Here is a look at the interface for the Lorebook:
I believe this kind of thing really needs to be present in more novel writing software, and really makes Novel AI a standout among other AI writers due to its ability to write long-form content with the help of the Lorebook.
Text Adventure Mode
Although I'm not the biggest fan of text-based games in general – Novel AI's Text Adventure Mode is a really refreshing way to relax and get immersed in another world of your choosing, or can be a stimulating alternative way to write.
I could genuinely see myself using this for help writing stories – it could help to ground your world a bit with more detailed in-depth, micro-interactions, and make you think about smaller aspects of your world in a new light, that maybe you wouldn't have thought of before – if you hadn't been so immersed.
You have an unprecedented amount of control over almost every aspect of the adventure, and can write your own prompts and fill in bits of the story, or leave it to the AI to generate the majority of the content. You are free to edit and change everything afterward if you so wish, and you can use the AI as much as you would like to set up the next action.
When you want to interact with the story, you can choose to either edit it yourself directly, add in some speech/dialogue from your pov/character, or specify an action or chain of actions for your character to enact.
Once you've done that – the AI will respond to your input dynamically, matching your speech and actions with its own, whilst being able to manage a whole story at the same time – including the overarching plot (using the aforementioned Lorebook), current situation, characters, and setting.
Pricing
Novel AI has a very reasonable selection of price points to choose from, including a free trial that requires no sign-up (If you do sign up you get an extra 50 generations all for free, which is nice!)
If you are serious about using Novel AI for your long-term projects, I would recommend at least investing in the Scroll Tier ($15) or the Opus Tier ($25) if you have enough. At least the Scroll Tier is necessary due to the increased token memory, which makes a huge difference to the AI's coherency and consistency. All the features of the higher tiers are more than useful and will quite literally make your writing 10 times better than it would be with the lower tiers, so I would wholeheartedly recommend it if you can spare the cash.
Verdict
Overall Novel AI proves itself to be a versatile tool, with many great features that are executed well. It constantly receives updates and is forever growing and improving with the help of the community as well.
The knowledge barrier to entry is quite high, with the interface and massive amounts of customization making your first delve into the software feel kind of incoherent. This is a stark contrast compared to other AI story generators such as Sudowrite, but of course, simplicity comes with the trade-off of massive amounts of customizability and configuration options.
In my opinion, in Novel AI's case, all of that is worth the learning curve due to the plethora of features and options available with Novel AI, paired with state-of-the-art AI technology that'll have you taking full advantage of all the upsides of an AI writer in no time – and set you well on your way to having a completed, engaging story.